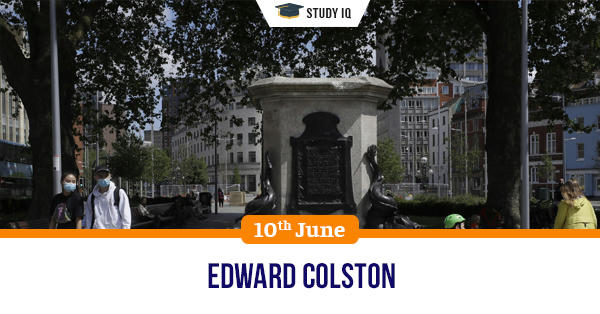 Edward Colston
Date: 10 June 2020
Tags: Appointments & Resignations
Issue
As anti-racism protests spread across Europe, in solidarity with the death of George Floyd in the United States of America, the protestors decided to attack their own symbols of racism.
Background
In the English port city of Bristol, a group of 10,000 demonstrators pulled down a 125-year-old statue of 17th century slave trader Edward Colston and dragged it through the city's streets into the harbour of river Avon.
Details
A petition seeking a reassessment of Colston's contribution to the city of Bristol has been doing the rounds for the last three years.

The petition claims that honour of a statue should be reserved for those who bring about positive change and who fight for peace, equality and social unity.

While some would like to remember Colston as a philanthropist who devoted his fortunes to the development and prosperity of Bristol, others are wary of the exploitative nature of his work that brought in the same fortunes.

At the initial stage of his career, Colston was involved in the trading of cloth, oil, wine, fruits with Spain, Portugal, Italy and Africa. In 1680, however, he joined the Royal African Company (RAC), which had a monopoly in England on the trade of gold, silver, ivory, and slaves, along the west coast of Africa.

The RAC was established by King Charles II along with his brother James, the Duke of York. Many of the enslaved Africans were branded with the initials 'DY', standing for Duke of York.

They were shipped to Barbados and other Caribbean islands to work on the new sugar plantations, as well as further north to England's American colonies.

Bristol, Liverpool, Glasgow, and London were the key ports for British companies trafficking African slaves across the Atlantic. The merchants, shipbuilders, sailors involved in the trade were a major source of income and wealth for these cities.

Colston was one such slave trade magnate, who funded a wide range of charitable projects in Bristol and London, including schools and almshouses for the poor of the city, thereby developing the reputation of a philanthropist.

Colston's image as that of a philanthropist is dotted across the length and breadth of Bristol. Apart from the statue that was torn down recently, his name is enshrined upon an independent school, a high rise building called Colston Tower, Colston Street and Colston Avenue, as well as the Colston Hall.