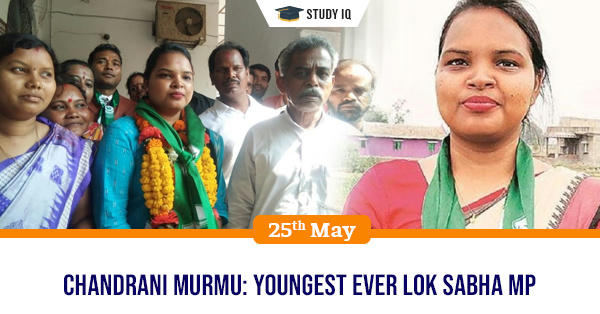 Chandrani Murmu: Youngest ever Lok Sabha MP
Date: 25 May 2019
Tags: Appointments & Resignations
Chandrani Murmu, a 25-year-old engineering graduate from Odisha has become the youngest Member of Parliament in the history of Lok Sabha. Aged 25 years and 11 months, she had won in recently concluded Lok Sabha elections from Keonjhar seat (reserved for Scheduled Tribes) on Biju Janata Dal (BJD) ticket. With this, she broke previous record of youngest MP in Lok Sabha held by Dushyant Chautala, founder of Jannayak Janta Party (JJP), who was elected at age of 26 years and 1 month from Hisar Lok Sabha constituency in Haryana in 16th Lok Sabha.
Note: In 17th Lok Sabha, Odisha has total of seven women MPs, making it the first state ever to have 33% or the largest share of women MPs of its total of 21 seats.
Election as Members of Lok Sabha
Members of the Lok Sabha (Lower House of Parliament) are elected through General Elections, held on the basis of universal adult suffrage.
Qualifications: According to 'Article 84' of Constitution of India, to become a member of the Lok Sabha, a person should be (i) citizen of India, (ii) not less than 25 years of age and (iii) possess such other qualifications as may be prescribed by or under any law made by Parliament.