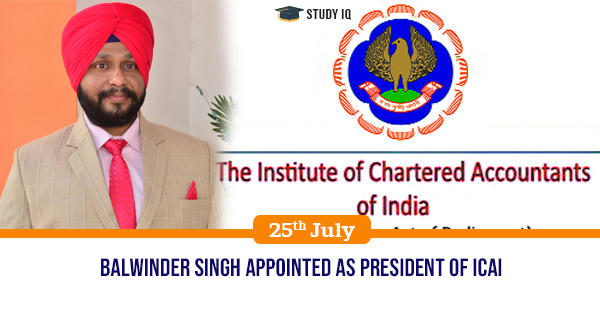 Balwinder Singh appointed as President of ICAI
Date: 25 July 2019
Tags: Appointments & Resignations
Balwinder Singh was elected as of President of Institute of Cost Accountants of India and Biswarup Basu as Vice President. Both of them have been elected for period 2019-2020.
About Institute of Cost Accountants of India (ICAI)
It is premier statutory professional accountancy body in India with objects of promoting, regulating and developing the profession of Cost & Management Accountancy.

It was established in May 1959 under Cost and Works Accountants Act, 1959 enacted by Parliament to regulate the profession of Cost and Management Accountancy in India.

It is the only licensing cum regulating body of cost and management accountancy profession in India.

It recommends Cost Accounting Standards to be followed by companies in India to which statutory maintenance of cost records applicable.

It is solely responsible for setting the auditing and assurance standards for statutory Cost Audit to be followed in the Audit of Cost statements in India.

It also issues other technical guidelines on several aspects like Management Accounting, Internal Audit etc. to be followed by practising Cost Accountants while discharging their services.

It works closely with industries, various departments of Central Government, State governments in India and other Regulating Authorities in India e.g. RBI, IRDAI, SEBI etc. on several aspects of performance, cost optimisation and reporting

Governing Structure:

It is governed by council of 20 members of whom 15 persons are elected from among members of Institute and 5 persons are nominated by the Government of India.

Associated Bodies:

It is founder member of International Federation of Accountants (IFAC), South Asian Federation of Accountants (SAFA), Confederation of Asian and Pacific Accountants (CAPA). It is also member of the National Foundation of Corporate Governance (NFCG).