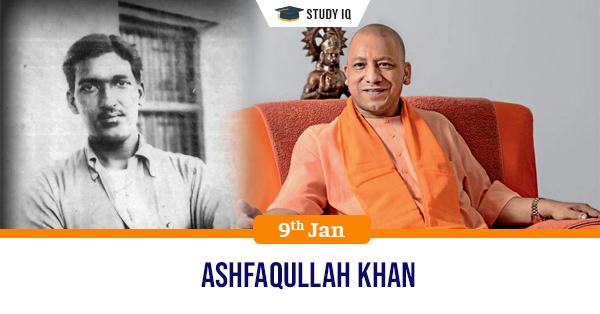 Ashfaqullah Khan
Date: 09 January 2020
Tags: Appointments & Resignations
Issue
The Uttar Pradesh cabinet has approved a proposal to set aside Rs 234 crore for a zoological garden in Gorakhpur, to be named after the freedom fighter and revolutionary Shaheed Ashfaqullah Khan.
Background
Khan was a freedom fighter who, along with Ram Prasad Bismil, was sentenced to death for the Kakori train robbery, commonly referred to as the Kakori conspiracy of 1925.
Details
Khan was born on October 22, 1900, in Shahjahanpur, Uttar Pradesh. He was disillusioned with British rule. He joined the revolutionaries and became acquainted with Bismil.

In the mid-1920s, Khan and Bismil went on to found the Hindustan Socialist Republican Association (HSRA), with the aim of winning freedom for the country through an armed revolution.
The Kakori Conspiracy
In August 1925, an armed robbery took place on board the Kakori Express, going from Shahjahanpur to Lucknow, carrying money that had been collected at various railway stations and was to be deposited in Lucknow.

In this planned robbery, carried out to fund the activities of the HSRA, Bismil, Khan and over 10 other revolutionaries stopped the train and fled with the cash they found in it. Within a month of the robbery, many members of the HSRA were arrested.

The trial for the case went on for about 1.5 years. It ended in April 1927, with Bismil, Khan, Rajendra Lahiri and Roshan Singh sentenced to death, and the others given life sentences.
Hindustan Republican Association
Hindustan Socialist Republican Association (HSRA) was a revolutionary organisation, also known as the Hindustan Socialist Republican Army, established in 1928 at Feroz Shah Kotla in New Delhi by Chandrasekhar Azad, Bhagat Singh, Sukhdev Thapar, Ramprasad Bismil and Yogesh Chatarjee.

After the Chauri Chaura incident, Mahatma Gandhi suspended the movement to prevent escalation of violence.

This disillusioned a section of nationalists who felt the suspension was premature and unwarranted. The political vacuum created by the suspension led to the formation of revolutionary movements by the more radical amongst those who sought to overthrow British rule.