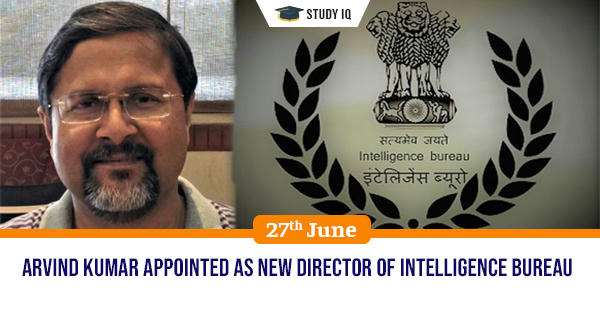 Arvind Kumar appointed as new Director of Intelligence Bureau
Date: 27 June 2019
Tags: Appointments & Resignations
The Appointments Committee of the Cabinet (ACC) chaired by Prime Minister Narendra Modi has appointed senior IPS officer Arvind Kumar as new Directr of the Intelligence Bureau (IB). He will succeed Rajiv Jain and will have two year tenure.
Arvind Kumar
He is IPS officer of 1984 batch of Assam-Meghalaya cadre. He is is currently Special Director in IB and his job involves supervising administrative and personnel desks. Before this, he had headed 'X' branch, the political wing in the IB. He has been working with the IB since 1991. He also has served in the Indian Embassy in Moscow, Russia. He is considered an expert on Kashmir and Naxal issues. He is recipient of the President's Police Medal for Distinguished Service.
Intelligence Bureau
It is India's internal intelligence agency. It was established in 1887 by British India Government. Later, it was recasted as Central Intelligence Bureau in 1947 under Ministry of Home Affairs. It is headquartered in New Delhi. Its motto is Always Alert.