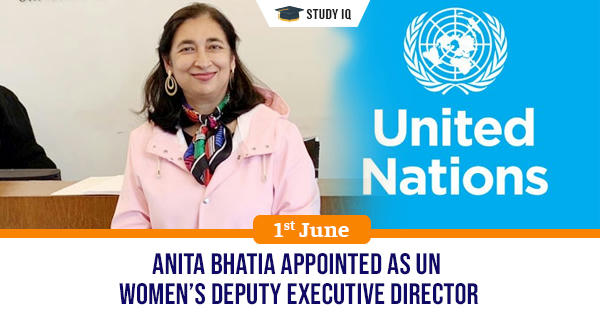 Anita Bhatia appointed as UN Women's Deputy Executive Director
Date: 01 June 2019
Tags: Appointments & Resignations
Indian-origin Anita Bhatia was appointed as Deputy Executive Director ofUnited Nations Entity for Gender Equality and the Empowerment of Women (UN-Women) for Resource Management, Sustainability and Partnerships.
About Anita Bhatia
She holds Bachelor of Arts in History from Calcutta University, Master of Arts in Political Science from Yale University and Juris Doctor in Law from Georgetown University.

She had distinguished career at World Bank Group, serving in various senior leadership and management positions, both at the headquarters and in the field.

She had served for several years as Director of Global Partnerships for International Finance Corporation (IFC) which is World Bank Group's private sector arm.
Note: Earlier veteran Indian diplomat and gender equality champion Lakshmi Puri had served as Assistant Secretary-General of United Nations and Deputy Executive Director of UN Women
UN Women
Its full name is United Nations Entity for Gender Equality and the Empowerment of Women (UN-Women). It is UN entity dedicated to gender equality and the empowerment of women.

It was established by UN General Assembly (UNGA) in July 2010. It became operational in January 2011. It is headquartered in New York City, United States.

It supports UN Member States in setting global standards for achieving gender equality. It also works with governments and civil society to design laws, policies, programmes and services needed to ensure that standards are effectively implemented and truly benefit women and girls worldwide. It also works globally to make vision of Sustainable Development Goals (SDGs), a reality for women and girls and stands behind women's equal participation in all aspects of life.