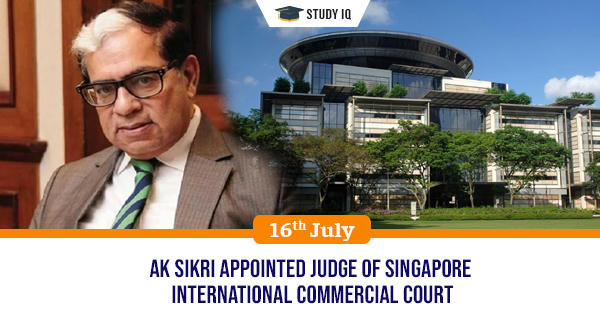 AK Sikri appointed judge of Singapore International Commercial Court
Date: 16 July 2019
Tags: Appointments & Resignations
Former Supreme Court judge Justice A K Sikri was appointed as International Judge of the Singapore International Commercial Court (SICC). He was appointed by President of the Singapore, on the advice of Prime Minister. His appointment is until January 4, 2021. Justice Sikri had served as Judge of Supreme Court of India for about six years from April 2013 till his retirement in March 2019.
About Singapore International Commercial Court (SICC)
It is a division of the Singapore High Court, dealing with international commercial disputes. It has 16 international judges in its panel.

It was established in January 2005 as part of Supreme Court of Singapore and is division of the High Court.

Its jurisdiction is governed by Section 18D of Supreme Court of Judicature Act. It also has jurisdiction to hear any case transferred from Singapore High Court.

Generally, it has jurisdiction to try an action if: (i) claims between parties are of an international and commercial nature; (ii) Parties had submitted to Court's jurisdiction under a written jurisdiction agreement and (iii) Parties do not seek any relief in the form of a prerogative order.