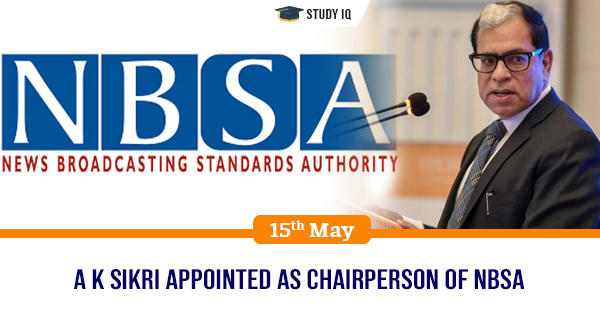 A K Sikri appointed as chairperson of NBSA
Date: 15 May 2019
Tags: Appointments & Resignations
News Broadcasters Association (NBA) has appointed former Supreme Court judge Justice A. K. Sikri as Chairperson of News Broadcasting Standards Authority (NBSA). He will succeed Justice R. V. Raveendran, who completes his term on May 25, 2019. Justice Sikri had served as Judge of Supreme Court of India for about six years from April 2013 till his retirement in March 2019.
News Broadcasting Standards Authority (NBSA)
It is independent, self regulating body set up by News Broadcasters Association (NBA) to improve broadcasting standards and adhere to Code of Ethics.

It act as an in-house regulator discharges function as watchdog to consider and adjudicate upon complaints about 24*7 news broadcasts which are member of NBA.

Members:

It is nine-member authority comprising of Chairperson (being an eminent jurist), four eminent persons and four eminent editors employed with a broadcaster.

Functions:

It decides about complaints made against any member broadcasters who might have allegedly violated or offended Code of Ethics, Guidelines and Advisories that are issued from time to time

It is empowered to censure, express disapproval, admonish, warn, and penalize broadcaster with a fine of sum upto Rs. 1 lakh for violation of Code.