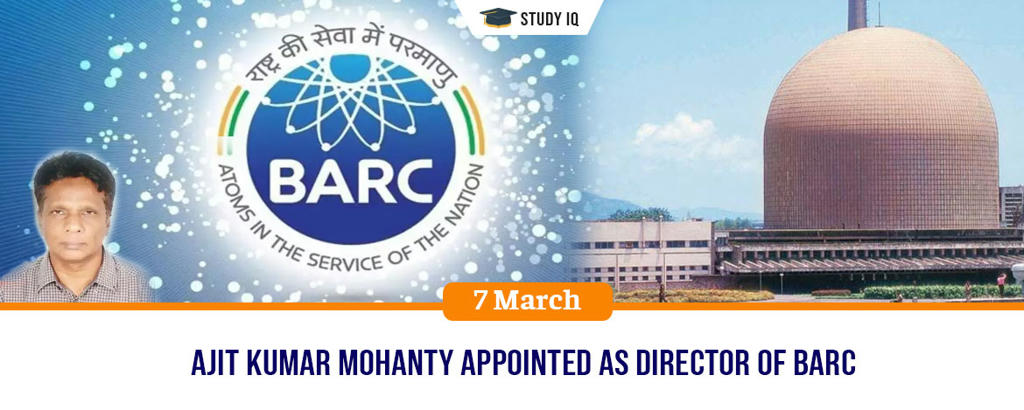 Ajit Kumar Mohanty appointed as Director of BARC
Date: 07 March 2019
Tags: Appointments & Resignations
Union Government has appointed distinguished scientist Ajit Kumar Mohanty (59) as Director of Bhabha Atomic Research Centre (BARC). He will have tenure of three years. He is at present Director, Physics Group in BARC and Director, Saha Institute of Nuclear Physics.
Ajit Kumar Mohanty
He specializes in basic physics and has considerable experience in particle collisions.

He has worked on Large Hadron Collider in Geneva and in trying to unravel the mysteries of Dark Matter.

He was instrumental in setting up India's deepest underground laboratory at Jadugoda in uranium mines that will do experiments to better understand the elusive Dark Matter.
Bhabha Atomic Research Centre (BARC)
It is India's premier multi-disciplinary nuclear research facility. It is located in Trombay, Mumbai, Maharashtra.

Its core mandate is to sustain peaceful applications of nuclear energy, primarily for power generation.

It was established in 1954 as Atomic Energy Establishment, Trombay (AEET). It was renamed to present name after Dr. Homi Jehangir Bhabha, father of Indian nuclear power and founder of AEET.

BACRC at present is multi-disciplinary research cen

t

re with extensive infrastructure for advanced research and development covering entire spectrum of nuclear science, engineering and related areas.

It operates number of research reactors across the country. It also serves as India's main nuclear weapons fuel lab.