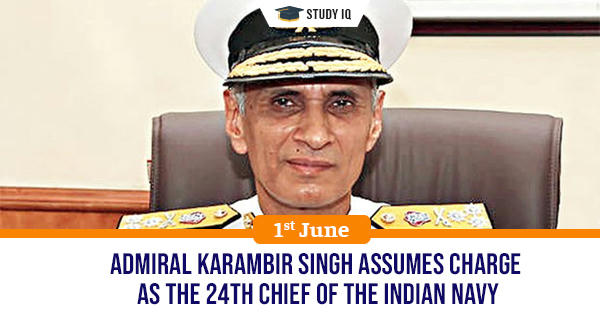 Admiral Karambir Singh assumes charge as the 24th chief of the Indian Navy
Date: 01 June 2019
Tags: Appointments & Resignations
Admiral Karambir Singh assumed charge as 24th Chief of the Naval Staff. He will be Navy chief till November 2021 and succeeded Admiral Sunil Lanba who retired from office on May 31, 2019. Prior to this appointment, Admiral Karambir Singh was serving as Flag Officer Commanding in Chief of Eastern Naval Command in Visakhapatnam, Adhra Pradesh. With this appointment, he became first helicopter pilot from Indian Navy to lead the naval armed forces.
About Karambir Singh
He is alumnus of the National Defence Academy (NDA), Khadakwasla, Pune. He was ommissioned into Indian Navy in July 1980.

He had earned his wings as helicopter pilot in 1982. He is graduate of Defence Services Staff College, Wellington and College of Naval Warfare, Mumbai. He has extensive experience of flying Chetak, Kamov-25 & Kamov-28 helicopters.

During his almost 40-year career, he has commanded missile corvette INS Vijaydurg, guided-missile destroyers INS Rana & INS Delhi. He also earlier had served as flag officer commanding Maharashtra & Gujarat Naval Area, director-general of Project Seabird, deputy chief & vice-chief of naval staff, & Eastern Naval Command chief.
Chief of the Naval Staff
He is commander and the highest-ranking officer in Indian Navy. This position is usually held by four-star officer in the rank of Admiral. It is abbreviated CNS in Indian Navy cables and communication.
Seniority criterion Overlooked
In appointment of Vice Admiral Karambir Singh, Government overlooked seniority criterion as Vice Admiral Bimal Verma (chief of the Andaman and Nicobar-based tri-service command) is senior-most officer in Indian Navy after retirement of Admiral Sunil Lanba. This for second time Government overlooked seniority criterion. Earlier, Government had overlooked senior officer by appointing General Bipin Rawat as Chief of Army Staff (Army General) in 2016. Vice Admiral Bimal Verma has initiated case against Admiral Singh's appointment at the Armed Forces Tribunal.