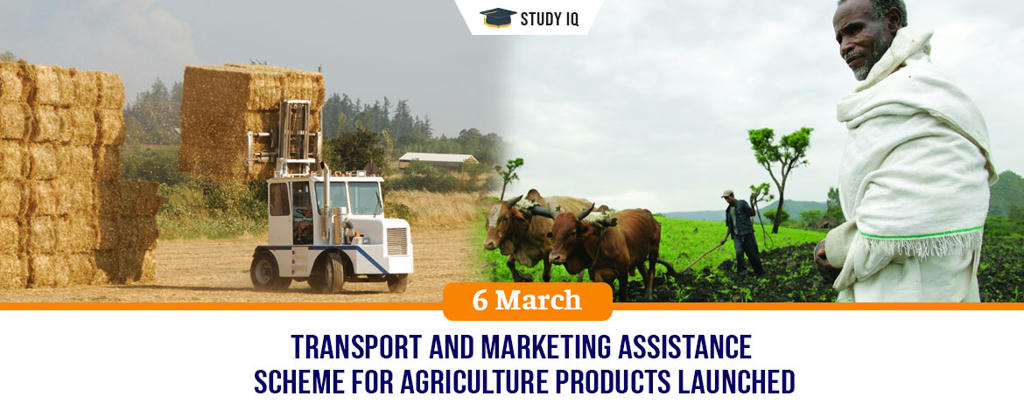 Transport and Marketing Assistance Scheme for Agriculture Products launched
Date: 06 March 2019
Tags: Agriculture, Commerce & Industry
Union Ministry of Commerce has launched Transport and Marketing Assistance (TMA) Scheme for Specified Agriculture Products. It aims providing financial assistance for transport and marketing of agriculture products for boosting export of farm commodities to certain countries in Europe and North America. This scheme will be included in Foreign Trade Policy (2015-20).
TMA Scheme for Specified Agriculture Product
Objectives:

(i) Provide assistance for international component of transportation of agricultural produce to mitigate disadvantage of higher cost of exporting agriculture products. (ii) Promote brand recognition for Indian agricultural products in the specified overseas markets.

Coverage:

It will cover all exporters who are registered with relevant Export Promotion Council as per Foreign Trade Policy. It covers freight and marketing assistance for agricultural export by air as well as by sea (both normal and refrigerated cargo).

Features:

Under it, financial assistance will be provided to exporters of eligible agriculture products to permissible countries as specified from time to time.

For export of products by sea:

TMA will be based on freight paid for a full Twenty-feet Equivalent Unit (TEU) containers.

For export of products by air:

TMA will be based on per ton freight charges on the net weight of the export cargo, calculated on the full ton basis.

Government will reimburse certain portion of freight charges and provide assistance for marketing of agricultural produce.

Level of financial assistance will be different for different regions and will be admissible for exports made through EDI (electronic data interchange) ports only.

The assistance will be admissible only if payments for exports are received in free foreign exchange through normal banking channels.

Assistance under it will be provided in cash through direct bank transfer as part reimbursement of freight paid.

FOB (freight on board) supplies where no freight is paid by Indian exporters are not covered under it.

Products which will not avail these benefits under it sugarcane or beet sugar and raw sugar, molasses, resins, gums, butter and other fats, milk and cream, live animals meat, beverages, spirits and vinegar and tobacco and manufactured tobacco substitutes.