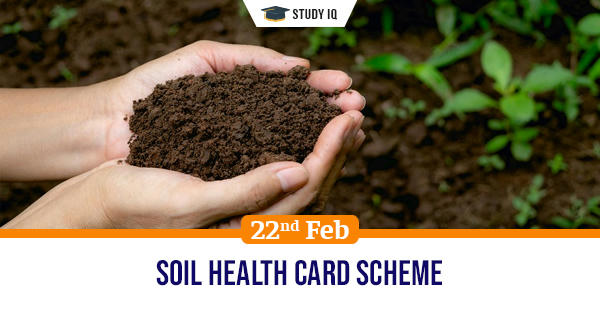 Soil Health Card scheme
Date: 22 February 2021
Tags: Agriculture
Issue
SHC is a printed report that a farmer will be handed over for each of his holdings. It will contain the status of his soil with respect to 12 parameters.
Background
The soil Health Card scheme has reduced usage of fertilizers by 10%. It has also rationalised usage of external minerals.
Details
Soil Health Card (SHC) is a Government of India's scheme promoted by the Department of Agriculture & Co-operation under the Ministry of Agriculture and Farmers' Welfare.

It is being implemented through the Department of Agriculture of all the State and Union Territory Governments.

A SHC is meant to give each farmer soil nutrient status of his/her holding and advice him/her on the dosage of fertilizers and also the needed soil amendments, that s/he should apply to maintain soil health in the long run.

Parameters included in SHC are N, P, K (Macro-nutrients) ; S (Secondary- nutrient) ; Zn, Fe, Cu, Mn, Bo (Micro - nutrients) ; and pH, EC, OC (Physical parameters).

Based on this, the SHC will also indicate fertilizer recommendations and soil amendment required for the farm.

The card will contain an advisory based on the soil nutrient status of a farmer's holding. It will show recommendations on dosage of different nutrients needed.

The State Government will collect samples through the staff of their Department of Agriculture or through the staff of an outsourced agency.

Soil Samples are taken generally two times in a year, after harvesting of Rabi and Kharif Crop respectively or when there is no standing crop in the field.