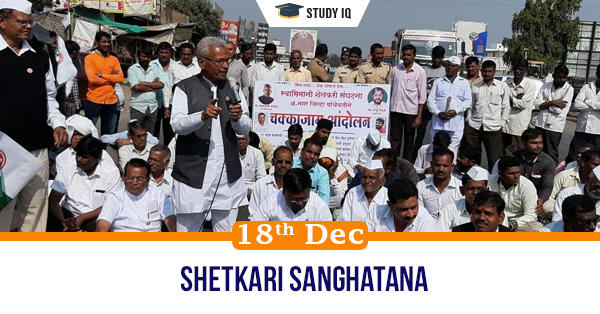 Shetkari Sanghatana
Date: 18 December 2020
Tags: Agriculture
Issue
Shetkari Sanghatana, a Maharashtra-based farmer's union founded by the legendary farm leader Sharad Joshi, has extended support to the new farm bills.
Background
The government was conducting a large outreach programme to convince farmers regarding the benefits of the new farm laws. Many farmers groups have met the Agriculture minister and expressed their support.
Details
Sharad Joshi, an economist by training, worked for the United Nations in Switzerland. After returning to the country, he purchased land and became a full-time farmer.

In 1979, he led a group of farmers to block the Pune-Nashik highway to press for higher prices for onion. The genesis of the Shetkari Sanghatana lies in this movement, which saw onion growers dumping their produce on the highway to underline their demand.

Joshi believed that unless the problems of rural India were raised forcefully in urban India, farmers would never receive justice.

His agitations were, therefore, invariably staged in the urban areas, and were calculated to impact urban life.

Protesters often gathered on highways or railway tracks to press for better prices of sugarcane, or the removal of state monopoly in the procurement of cotton.

The Shetkari Sanghatana has been vocal about getting access to the market. Joshi was convinced that the root cause of farmers' problems lay in their limited access to the market.

The Sanghatana hit the street to demand removal of zone limits on sugarcane farmers, or the ban on inter-state movement of cotton.

The Sanghatana was one of the first bodies to come out in support of the farm reforms announced by the central government.

Of the three new laws, The Farmers Produce Trade and Commerce (Promotion and Facilitation) Act, 2020 received the most support from the union.