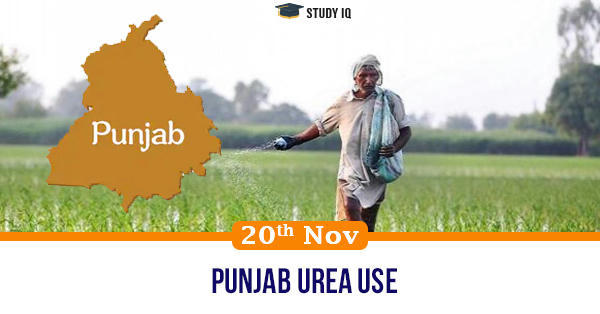 Punjab urea use
Date: 20 November 2020
Tags: Agriculture
Issue
Punjab's fields are waiting for a crucial fertiliser, urea. The state is facing a shortage of urea due to suspension of goods trains.
Details
Urea provides nitrogen to crop, which enhances productivity. It is required around 30 days after sowing of wheat, potato, etc.

It is applied with the first irrigation of wheat, which is normally done after 30 days of sowing. Urea dissolves in properly irrigated or moist fields only.

If the first dose is delayed by 10-15 days, the yield will be affected by 10-15%. If there is no application of urea due to its non-supply, the yield may go down by 35 to 40%.
Alternative to urea
Water soluble chemical sprays are an option, but even these are not available in the required quantity in Punjab.

Organic farming is the other option, which needs neither urea nor di-ammonium phosphate (DAP).

To give further nutrition to the crop, dung cakes can be mixed in water and sprayed close to the roots of the plants. This costs almost nothing, as cow dung cakes are available with every farmer in Punjab.

Cow dung cake contains Gibberellic acid, which is very good for plant growth and enhances photosynthesis.
Impact of overuse of fertilizers
Land degradation as fertilizers reduces yield gradually over a period of time.

High input cost as fertilizers are costly.

Environmental pollution occurs due to mixing of fertilizers with water bodies.

Health concerns due to excess use of fertilizers.

Lower market demand in the future.