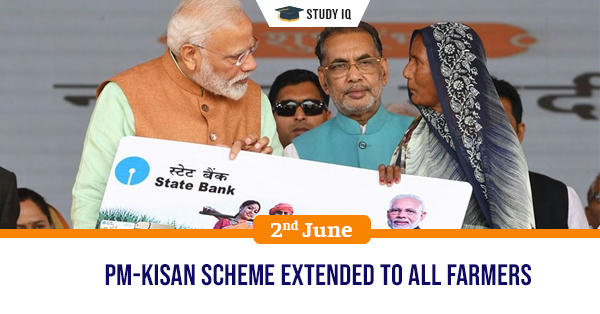 PM-KISAN Scheme extended to all farmers
Date: 02 June 2019
Tags: Agriculture
The Union Cabinet has approved to comprehensively extend ambit of Pradhan Mantri Kisan Samman Nidhi (PM-KISAN) Yojana to all farmers across the country irrespective of landing holding limit. With this decision, all land holding eligible farmer families (subject to the prevalent exclusion criteria) will avail of the benefits under this scheme. This scheme was launched to assured farm support to estimated 12.5 crore small and marginal farmers holding land up to 2 hectares. Now, the revised scheme envisages to cover around 2 crore more farmers increasing its coverage to around 14.5 crore beneficiaries. This is expected cost Government around Rs 87,000 crore a year, up from earlier entailed annual expenditure of Rs.75,000 crore.
Pradhan Mantri Kisan Samman Nidhi (PM-KISAN) Yojana
It is farm support scheme announced interim Budget for the year 2019-2020. It aimed at addressing farm sector in crisis by providing an assured income support to small and marginal farmers.

Intended Beneficiaries:

Vulnerable landholding farmers having cultivable land upto 2 hectares (now expanded to all farmers). It is expected to benefit around 12 crore small and marginal farmer families. It will enable farmers to earn and live respectable living.

Benefits:

It will provide vulnerable landholding farmers direct income support of Rs. 6000 per year. This income support will be transferred directly into bank accounts of beneficiary farmers in three 4-monthly equal instalments of Rs. 2,000 each over the year through Direct Benefit Transfer mode.

Funding:

It is entirely funded by Central Government.