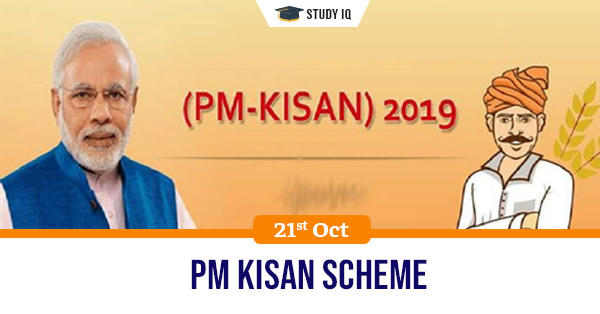 PM KISAN scheme
Date: 21 October 2019
Tags: Agriculture
Issue
Nobel laureate Abhijit Banerjee has said that government should extend its PM KISAN scheme to landless rural labourers along with the already existing land owning marginal and small farmers.
Background
The PM KISAN scheme was introduced in the last budget, when the agricultural sector was undergoing enormous stress due to failure of agricultural economy owing to climatic factors as well as reducing demands for produce.
Details
Pradhan Mantri Kisan Samman Nidhi is an initiative by the government of India in which all small and marginal farmers will get up to ?6,000 per year as minimum income support.

The 6,000 per year amount will be paid to each eligible farmer in three instalments and will be deposited directly to their bank accounts.
Eligibility
In the database, the land owner's name, gender.

Social Classification (Scheduled Tribes / Scheduled Tribes).

Aadhaar number, bank account number and mobile number etc.

Imitation of agricultural land Khatauni imitation.

Jan Dhan Bank Account Number, Aadhaar and Mobile Number will help in identifying eligible beneficiaries and incompetent claimants.

The scheme is sponsored by the Central Government. Therefore, the farmers have to be citizens of the country.
Drawbacks
While PM-KISAN aims to cover small and marginal farmers (85% of farmer population), landless agricultural labourers and tenant farmers are left in the lurch.

The situation in the north-eastern States, as land ownership rights in the region are community-based, making it difficult to identify beneficiaries.

Lack of proper maintaining database for land records.
Benefits
It would provide assured supplemental income to the most vulnerable farmer families, particularly before the harvest season.