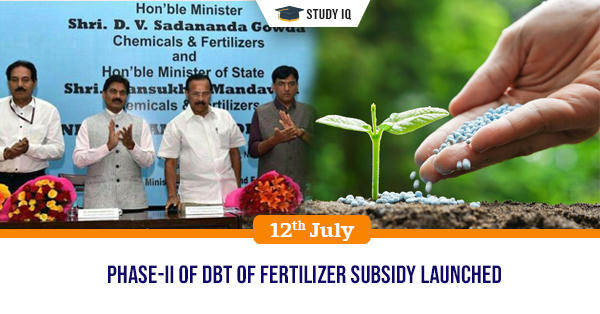 Phase-II of DBT of Fertilizer Subsidy launched
Date: 12 July 2019
Tags: Agriculture
Union Ministry of Chemicals and Fertilizers launched Phase-II of the Direct Benefit Transfer of Fertilizer Subsidy (DBT 2.0). As part of second phase, three new technology initiatives have been launched which are aimed at further improving the DBT system
New initiatives of DBT 2.0 are as under:
DBT Dashboards: These dashboards provide various reports regarding Fertilizer Stock position at ports, plants, in States, at District levels. It will facilitate real-time monitoring of the availability and sale of fertilizers within each State/UT. It will also facilitate accurate information gathering and decision-making w.r.t. position of requirement/supply/availability of various fertilizers at National, State and District levels,
PoS 3.0 Software: It is multi-lingual facility would provide Aadhar virtual ID option for registration, login and sale activity in DBT software. It also has provision for area-specific, crop-specific recommendations based on Soil Health Card (SHC) data. It will capture sale to farmers, mixture manufacturers, planter association separately.
Desktop PoS Version: It is multilingual desktop version of PoS software that will serve as an alternative or added facility to PoS devices. Retailers with laptops and computer systems can use high-speed broadband service for fertilizer sales. It is also more robust and secure. It is developed and handled directly from the central HQ team at DoF.
Background
Department of Fertilizers (DoF) has implemented Phase-I of Direct Benefit Transfer (DBT) system in fertilizer (DBT 1.0) from March 2018. It is aimed at ease of living in the lives of farmers through use of modern technology and plugging leakages, pilferages and black marketing. It is envisaged release of 100% subsidy on various fertilizer grades to fertilizer companies on basis of actual sales made by retailer to beneficiaries. Project Monitoring Cell was set up at DoF to oversee implementation of DBT exclusively. Central Government bears over Rs 70,000 crore annually as fertiliser subsidy to give cheaper farm nutrient to farmers.