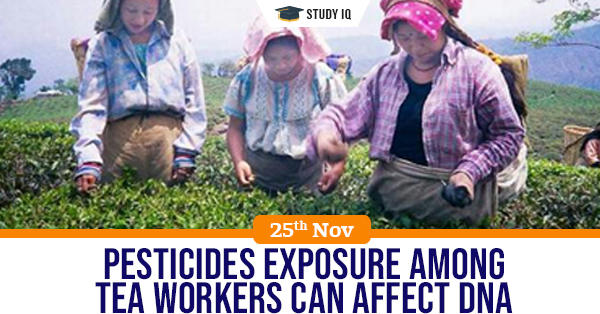 Pesticides exposure among tea workers can affect DNA
Date: 25 November 2019
Tags: Agriculture
Issue
Reports published by a research team points out that chronic exposure to the mixture of pesticides has led to changes in the DNA and also decreased certain enzyme activity of tea garden workers.
Background
The team used a special study called comet assay which helps assess DNA damage and found that individuals exposed to pesticides had significantly higher value of certain parameters which suggest damage compared to control subjects.
Details
Detailed analysis showed that the estate workers both men and women, irrespective of whether they smoked or consumed alcohol, showed decrease in enzyme activity, especially enzymes AChE and BuChE.

AChE is known to be target of most organophosphates. AChE terminates synaptic (neuron to neuron) transmission, preventing continuous nerve firings at nerve endings. Organophosphorous pesticides bind to this site and inactivate the enzymes.

In the long run, these may even cause other neurological complications. Some studies have pointed out that herbicide and fungicide exposure is associated with Parkinson's disease too.

The research shows that the damage might be the due to single strand DNA breaks, or any disorder of the DNA or DNA-DNA or DNA-protein cross-links. This damage was found to be independent of sex, age, or duration of exposure.

The researchers note that the workers were not wearing any protective gear such as masks, gloves and boots.

The men who were mostly sprayers inhaled and also contacted the pesticide through their skin. The female workers also came into direct skin contact and has residues on their clothes.

The team also warns of second-hand contact where the family can also be exposed if the workers don't clean up properly before going home.
Tea growing regions