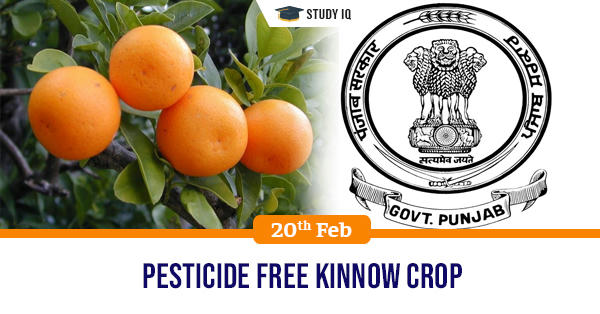 Pesticide free Kinnow crop
Date: 20 February 2020
Tags: Agriculture
Issue
The Punjab Agri Export Corporation recently launched the 'Punjab Kinnow' brand at the kinnow festival in Abohar. This brand of kinnow, which is considered the 'king fruit' of Punjab, is also said to be "pesticide-free".
Background
However, the kinnow is a year-long crop, often attacked by pests including mites at various stages, requiring several sprays of insecticide.
Details
Branding the crop has been done along the lines of the region-specific branding of several other fruits like the 'Nagpur orange' (which even has a GI tag) and 'Australian kiwi'. Punjab being the largest producer of kinnow in the country, such branding will attract more consumers.

Punjab's kinnow has several nutritive values including limonin, which helps control cholesterol level and has anti-cancer properties, which the consumer should be informed.
Pest attacks and diseases
Over a dozen types of insects and pests attack the kinnow plant's leaves, stem and fruit through the year.

The Citrus Psylla attacks the crop almost throughout the year till a month before harvesting in March-April, July-August and September-October.

The Citrus Leaf Minor attacks the crop from April to mid-June and in the first week of November, a month before harvesting.

The Citrus Whitefly and blackfly attack in April-May and September-October, while Black Citrus and Black Citrus Aphids are active August to October.

The Citrus Thrips has been known to prey on the plant from March to April, and the Citrus mite in May-June, August- September.

The kinnow plant is also vulnerable to the Fruit Sucking bug, Mealybugs, Fruit Flies, Lemon butterfly etc.

There are around 10 diseases like foot rot of plant, Fruit Drop, Citrus Canker, Citrus Scab, Sooty Mould Ring Spot, Greening, Citrus Tristeza, Die Back, etc. which attack both plant and fruit.

Fewer pests attack the kinnow plant so there is hardly any use of pesticide on it and it can be called 'pesticide free', but the attack of insects including thrips and whitefly are quite frequent, which need to be controlled through controlled use of insecticides.

Because of these natural climatic conditions farmers are not required to spray any insecticides from November to mid-February and this makes kinnow safe for consumption.