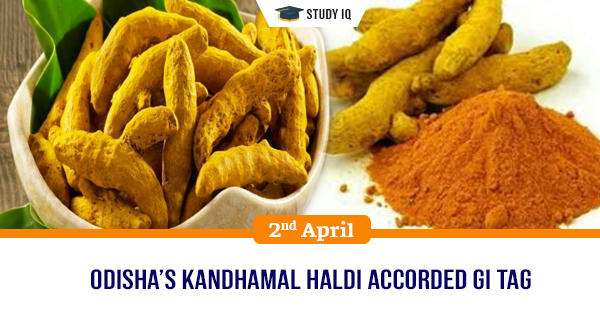 Odisha's Kandhamal Haldi accorded GI tag
Date: 02 April 2019
Tags: Agriculture
Kandhamal Haldi, a variety of indigenous turmeric grown only in southern Odisha, has received Geographical indication (GI) tag from Intellectual Property India. It has been placed under Class-30 type trademark/GI for grains and agricultural, horticultural, and forestry products.
Kandhamal Haldi
This unique variety of turmeric is grown in Odisha's southern hinterland. It is key cash crop of tribal people from Kandhamal district of Odisha.

It has multifaceted utility in food, medicine and cosmetics considering its unique aroma and color to food items and various cuisines.

It has more oleo resin and volatile oil contents compared to other turmeric varieties. This gives it strong aroma and has high medicinal value and healing properties.
Geographical Indication (GI)
It is name or sign used on products which corresponds to specific geographical location or origin (can be town, region or country).

It acts as authenticity certification that product possesses certain qualities and is made according to traditional methods and enjoys certain reputation due to its geographical origin.

It is accorded to natural, agricultural and manufactured goods (commodity) having special quality and established reputation.

It is covered as element of intellectual property rights (IPRs) under Paris Convention for Protection of Industrial Property.

In India, GI recognition is valid for 10 years after which it needs to be renewed. It is governed and regulated Geographical Indications of Goods (Registration and Protection Act), 1999. This Act is administered by Controller General of Patents, Designs and Trade Marks (under Ministry of Commerce), who is also Registrar of GI.
Benefits of GI
It gives GI accorded products complete exclusivity, ensuring that no one can use their name. It plays very important role to increase realm of market for the original product. It also indirectly leads to sustainable development, boosts exports as well tourism. It enables stakeholders to authenticate their production while earning premium and derive improved livelihood. Its violation is punishable offence under law.