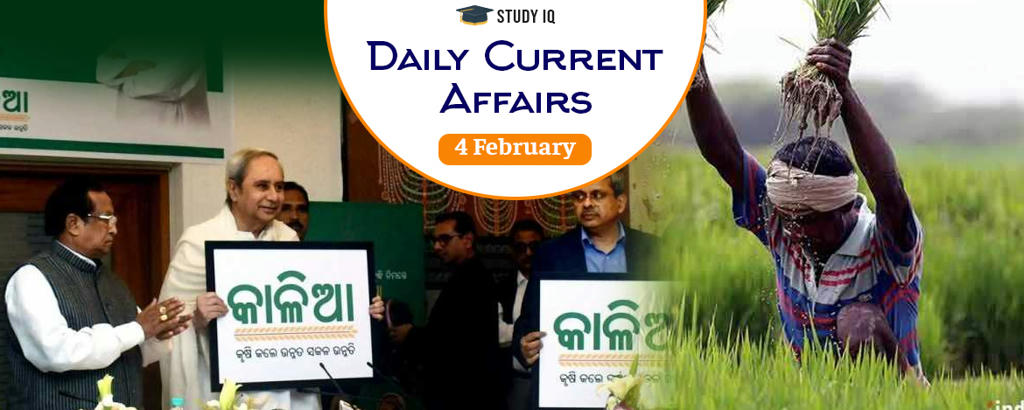 Odisha Government adds scholarship component to KALIA Scheme
Date: 04 February 2019
Tags: Agriculture
Odisha Government has launched KALIA Chhatra Bruti Scheme to help farmers' children in state to pursue higher studies in disciplines such as medicine, engineering, management and law etc. This scholarship scheme is new component of recently launched KALIA (Krushak Assistance for Livelihood and Income Augmentation) scheme.
KALIA Chhatra Bruti Scheme
Under it, children of beneficiary farmers KALIA scheme will be provided scholarship for pursuing higher education.

Its main beneficiary are children of farmers who have taken admission at Government Professional colleges on merit basis. State government will bear the educational expenses of these children.
KALIA (Krushak Assistance for Livelihood and Income Augmentation) scheme
It is income support scheme launched by Odisha Government to provide financial, livelihood, cultivation support along with insurance support to small, marginal and the landless farmers.

It is package scheme for farmers' welfare launched to accelerate agricultural prosperity and elimination of poverty.

Intended beneficiaries: It primary targets are small farmers and marginal farmers, sharecroppers, cultivators and landless agricultural labourers. It also targets landless households, specifically SC/ST families. It will benefit around 92% of the cultivators in the state and include every category from big farmers to landless cultivators irrespective of quantum of land owned.
Funding: State Government has allocated Rs. 10,180 crore over three years until 2020-21 for this scheme i.e. for five cropping seasons between 2018-19 and 2021-22.
Components of Scheme
Support for Cultivation: Rs. 10, 000 per family will be provided to beneficiary farmers as assistance for cultivation. It will be provided in two installments, Rs 5,000 each in the Kharif and Rabi seasons.

Farmers can use this assistance to purchase seeds, fertilizers, pesticides and also for labour.

Support for livelihood: It supports Landless households, specifically SC and ST families with unit cost of Rs. 12,500 for livelihood activities like goat rearing, mushroom cultivation, beekeeping, poultry farming and fishery.
Financial Assistance: Rs. 10,000 per annum will be provided to 10 lakh vulnerable households and landless laborers.
Life Insurance Cover: It also provides life insurance cover of Rs. 2 lakh and additional personal accident coverage of the same amount to 57 lakh households of cultivators and landless agri labourers.
Interest Free Crop Loans: It proposes interest-free crop loans up to Rs 50,000.