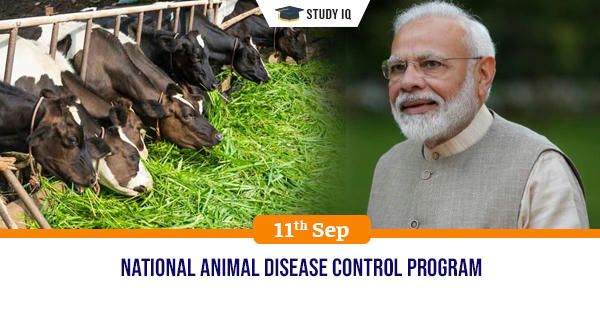 National animal disease control program
Date: 11 September 2019
Tags: Agriculture
Issue
Prime Minister Narendra Modi will launch the National Animal Disease Control programme as well as the National Artificial Insemination Programme in Mathura.
Background
Animal rearing is a very profitable profession in rural economies. But susception to diseases to animals can cause losses. To prevent infection in animals, programs such as this has been undertaken.
Details
the programme aims at vaccinating over 500 Million Livestock against the Foot and Mouth Disease. It is being funded entirely by the central government ith a budget of Rs 12,652 crores for a period of 5 years.

The programme also aims at vaccinating 36 Million Female Bovine Calves annually in its fight against the Bruce-llosis disease.

The Programme has two components ,to control the diseases by 2025 and their eradication by 2030.

The launch of the National Animal Disease Control Programme will take the country into a mission mode to save and nurture livestock, Indian farmers most valuable source of additional income.

This step is in line with government's aim of doubling farmer's income by 2022. The supplementary income to be generated will be through livestock rearing.