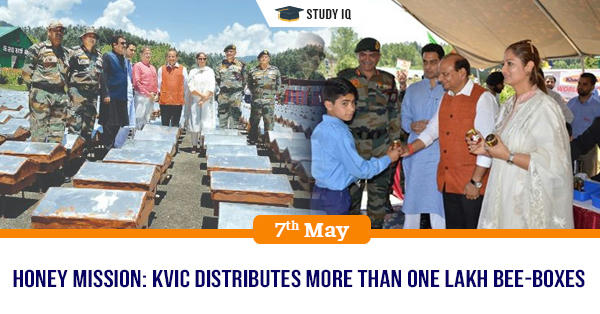 Honey Mission: KVIC distributes more than one lakh bee-boxes
Date: 07 May 2019
Tags: Agriculture
Khadi and Village Industries Commission (KVIC) has distributed more than one lakh bee-boxes among farmers and unemployed youths across the country in less than two years under its 'Honey Mission' initiative. So far, it has distributed 1,01,000 bee-boxes, which had happened for the first time in India. This has resulted in creation of more than 10,000 new jobs and around 25,000 additional man days through fabrication of bee boxes and honey extractors.
Honey Mission
It was launched by Khadi and Village Industries Commission (KVIC) in August 2017 in line with Prime Minister Narendra Modi's call for 'Sweet Revolution' in 2016.

Under it, KVIC provide loans for setting up units of processing, packaging and labelling units for the honey. It also provides beekeepers practical training about examination of honeybee colonies, acquaintance with apicultural equipments, identification and management of bee enemies and diseases, honey extraction and wax purification, and management of bee colonies in spring, summer, monsoon, autumn and winter seasons.

Objectives of Mission:

(i) create an end-to-end implementation framework for beekeeping skill development, which provides employment opportunities and income generation to agriculturists, beekeepers, and rural and urban unemployed youths

(ii) Enforce nationally acceptable standards of good beekeeping practices in the country.

(ii) Offer a passage for overseas market for hive products

(iv) Tap local and rural natural resources for generation of income and employment to rural and tribal people in selected pockets.

(v) Promote beekeeping for increasing the crop productivity and pollination services avenue for beekeepers and farmers.

Mission's Success claim

: So far, it has helped to extract 246 metric tonnes of honey. Besides, it has helped farmers to increase yield by up to 30

%

after implementation of this mission.

World Record:

KVIC in May 2018 had created world record by giving away 1,000 bee boxes to Mishing tribe dwelling in the forests of Kaziranga, Assam. It had broke previous record of distributing 841 boxes, achieved by Israel in 2016.