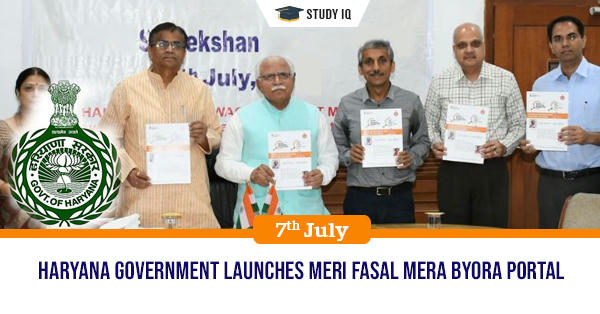 Haryana Government launches Meri Fasal Mera Byora portal
Date: 07 July 2019
Tags: Agriculture
Haryana government has launched 'Meri Fasal Mera Byora' portal to enable farmers to report their land and crop details. The online portal will also help them receive the benefits of several government schemes directly.
Meri Fasal Mera Byora portal
It brings together departments of agriculture and farmers' welfare, revenue, food civil supplies and consumer affairs and science and technology on single platform for betterment of the farmers.

It mandates farmers from the state to upload details about crops sown in their field on the portal at nearby Common Service Centres (CSCs) or Atal Seva Kendras or with the help of VLEs by end of July.

It also mandates farmers to fill the details about the non-cultivated land in case he has not sown any crop yet.

Financial incentive

: Farmers on registering themselves on this portal will be provided with incentive of Rs 10 per acre or part thereof, subject to minimum of Rs. 20 to maximum Rs 50. This amount will be directly deposited in farmer's bank accounts.

Benefits of portal:

It will make the distribution of seeds, fertilizers and farm loans more transparent and easy. It will enable farmers to avail the subsidy on agriculture implements easily. It will also make damage assessment during natural calamities and disbursal of relief in cases of crop damage easier. It will also provide information related to sowing, harvesting season and mandi on real time basis.