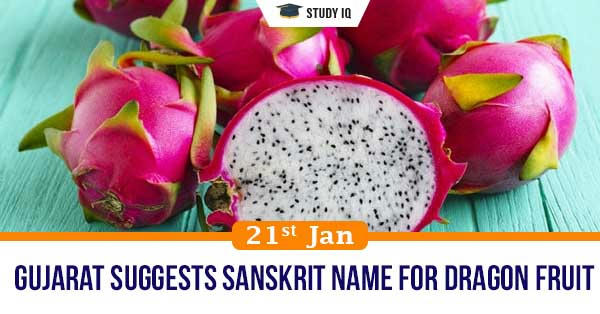 Gujarat suggests Sanskrit name for Dragon frui
Date: 21 January 2021
Tags: Agriculture
Issue
Gujarat Chief Minister Vijay Rupani has proposed to rename dragon fruit as 'Kamalam' in order to give it an Indian identity.
Background
He considered Kamalam was apt because the characteristic fuchsia 'spikes' or 'petals' of the fruit recall a lotus in bloom.
Details
Dragon fruit is the fruit of a species of wild cactus indigenous to South and Central America, where it is called pitaya or pitahaya.

The fruit's flesh is usually white or red and is studded with tiny seeds rather like the kiwifruit.

The world's largest producer and exporter of dragon fruit is Vietnam, where the plant was brought by the French in the 19th century.

The Vietnamese call it thanh long, which translates to "dragon's eyes", believed to be the origin of its common English name.

Dragon fruit is also cultivated in Thailand, Taiwan, China, Australia, Israel, and Sri Lanka. It was brought to India in the 1990s, and is grown in Karnataka, Kerala, Tamil Nadu, Maharashtra, Gujarat, Odisha, West Bengal, Andhra Pradesh, and Andaman and Nicobar Islands. It grows in all kinds of soil, and does not require much water.
Renaming proposal
ICAR sources said the Gujarat government's proposal had been forwarded to the Union Ministry of Agriculture and Farmers' Welfare.

ICAR officials say such a proposal would need approval from the Botanical Survey of India and the National Biodiversity Authority under the Union Ministry of Environment, Forest and Climate Change.

Dragon fruit is not a species native to India and any change in its nomenclature in official annals can lead to international litigation.