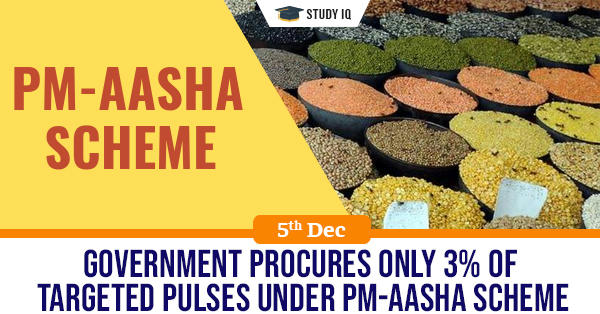 Government procures only 3% of targeted pulses under PM-AASHA scheme
Date: 05 December 2019
Tags: Agriculture
Issue
Less than 3% of this season's sanctioned amount of pulses and oilseeds have been procured so far under the PM-AASHA scheme, according to data from Agricultural ministry.
Background
A total of 37.59 lakh metric tonnes of procurement had been sanctioned under the Centrally funded scheme. However, only 1.08 lakh tonnes have been procured so far.
Details
The PM-AASHA or Pradhan Mantri Annadata Aay Sanrakshan Abhiyan, was announced as an effort to ensure that farmers growing pulses, oilseeds and copra actually get the minimum support prices they are promised for their crops each year.

Apart from initiatives to allow cash payment to farmers or procurement by private traders, PM-AASHA's main feature was a price support scheme whereby Central agencies would procure pulses and oilseeds directly from farmers.

The Centre had budgeted 15,053 crore over two years to implement the scheme apart from an additional government credit guarantee of 16,550 crore for agencies undertaking procurement.

The main crops covered under the scheme this season are moong, urad, arhar, groundnut and soyabean. The late arrival of the monsoon means that harvests and crop arrivals also began slightly later than expected.

The highest procurement so far has taken place in Rajasthan, where more than 51,000 tonnes of moong and groundnut have been procured, against a total sanctioned amount of 9.6 lakh tonnes.
PM- AASHA scheme
The Pradhan Mantri Annadata Aay SanraksHan Abhiyan (PM-AASHA) is aimed towards ensuring remunerative prices to farmers for their produce.

The three components outlined under the scheme is thus aimed towards enhancing agricultural productivity, reducing cost of cultivation which will enable boosting and securing farmer's income in the long run.
Price Support Scheme (PSS)

Price Deficiency Payment Scheme (PDPS)

Pilot of Private Procurement & Stockist Scheme (PPPS)
Benefits of PM AASHA
The Price Support Scheme (PSS) promises to provide assured price for farmers and protect them from making distress sale during bumper harvest.

The scheme proposes to strengthen physical procurement of pulses, oilseeds and copra.

State governments will be entrusted with the responsibility of deciding the type and quantity of the crop to be procured when wholesale prices fall below MSP.

When markets have failed miserably to pull out farmers from the perpetual indebtedness over the years, the launch of PM-AASHA can be seen as the dawn of new market architecture.