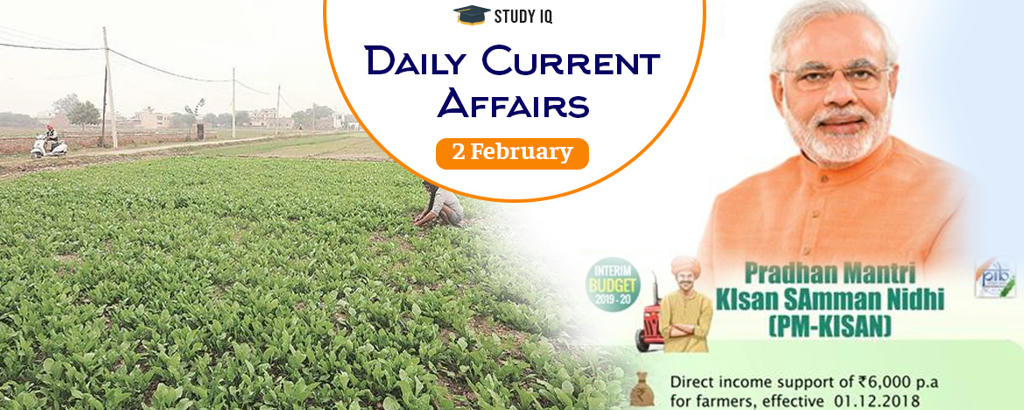 Goverment Announce Pradhan Mantri Kisan Samman Nidhi Scheme
Date: 02 February 2019
Tags: Agriculture
Pradhan Mantri Kisan Samman Nidhi (PM-KISAN) Yojana was announced in Interim Budget 2019-20 to provide assured income support to small and marginal farmers. This scheme will be made effective retrospectively from 1st December 2018 and first installment for period upto 31st March 2019 will be paid during this year itself.
Pradhan Mantri Kisan Samman Nidhi (PM-KISAN) Yojana
It is farm support scheme aimed at addressing farm sector in crisis by providing an assured income support to small and marginal farmers.

It will not only provide assured supplemental income to most vulnerable farmer families and but also help to meet their emergent needs especially before the harvest season.

Intended Beneficiaries: Vulnerable landholding farmers having cultivable land upto 2 hectares. It is expected to benefit around 12 crore small and marginal farmer families. It will enable farmers to earn and live respectable living.
Benefits: It will provide vulnerable landholding farmers direct income support of Rs. 6000 per year. This income support will be transferred directly into bank accounts of beneficiary farmers in three equal instalments of Rs. 2,000 each.
Funding: It will be funded by Central Government. It will entail annual expenditure of Rs.75,000 crore
Need
In recent times, there has been decline in income of farmer family leading to farm distress across the country due to declining prices of agricultural commodities in international market and fall in food inflation in domestic market relative to non-food sector.

There is need to provide structured income support to poor land-holder farmer families in country for procuring inputs such as seeds, fertilizers, equipment, labour etc. and to meet other needs.

Such support will help marginal farmers in avoiding indebtedness as well and falling into clutches of money lenders.
Similar schemes of states governments
Rythu Bandhu of Telangana
It was first direct farmer investment support scheme to be launched in India where the cash is paid directly into the farmers' account.

Farmers get Rs 8,000 investment support in two instalments ahead of Kharif and Rabi season. There is no cap on land holding for beneficiaries and also incorporates tenant farmers as beneficiaries.

It also has insurance component.
Krishak Bandhu scheme of West Bengal
It offers input support of Rs.5000 per acre in two instalments to farmers, one during Kharif and another during Rabi season. Farmers can also take financial assistance at one go.

Under it, farmers (earning family member) aged between 18 and 60 years are also provided life insurance cover of Rs 2,00,000 in case of death, irrespective of cause. They are not required to pay any premium to avail the insurance benefit.
KALIA scheme of Odisha
KALIA stands for Krushak Assistance for Livelihood and Income Augmentation. It benefits 92% of the cultivators in state including big farmers to landless cultivators.

It is most comprehensive of all income support scheme announced so far as it covers landless agricultural labourers along with marginalized farmers and vulnerable agricultural households.

Under it, Rs 10,000 per family is provided as assistance for cultivation, Rs 5,000 each in the Kharif and Rabi seasons.

Under it, financial assistance is not linked to the quantum of land owned. It also has provision for interest-free crop loan upto Rs. 50000.

It also targets landless households, specifically SC/ST families by providing them assistance of Rs 12,500 for activities like goat rearing, beekeeping, poultry farming, fishery and mushroom cultivation.

It also provides life insurance cover of Rs 2 lakh and additional personal accident coverage of same amount for 57 lakh households.