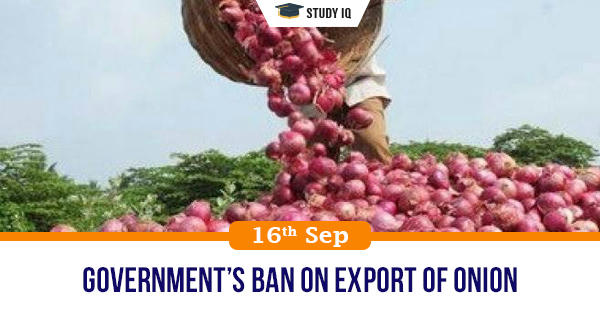 Government's ban on export of onion
Date: 16 September 2020
Tags: Agriculture
Issue
The central government issued a notification prohibiting the export of onions even as the average traded price of the bulb crossed the psychological barrier of Rs 30 per kg.
Background
The government tweaked the archaic Essential Commodities Act, 1955 to make the imposition of stock limit and movement restrictions on food grains, edible oilseeds, potatoes, onions, and other essential commodities only applicable in extreme conditions like war or natural calamity.
Details
There seem to be two main triggers that prompted the government to take the extreme step of putting a blanket ban on exports of all kinds of onions.

The first was obviously the steady increase in wholesale prices of onions which has seen the kitchen staple becoming costlier in the urban markets.

The immediate trigger which led to the ban can also be found in the Consumer Price Index (CPI) numbers released by the Ministry of Statistics and Program Implementation (MoSPI).

The numbers, which measures the inflation was 6.69 percent a tad bit lesser than the 6.73 of last month but well above the Reserve Bank of India (RBI)'s target of 6 percent.

Exceptionally heavy rains which lashed the country in August have led to a near-complete washout of the almost market-ready onion crop in Karnataka which was to hit the markets early in September.

Along with this, the rains have also wreaked havoc on the stored onions in Madhya Pradesh, Gujarat, and parts of Maharashtra.

At present, it is only the onion growers in Maharashtra who have stored up the produce which they harvested in March-April. The supply disruption is likely to continue till the new crop in Maharashtra hits the markets early November.

Indian onions, normally shipped out countries in the Gulf, Sri Lanka, and Bangladesh, have a year-round steady demand. Demand from Sri Lanka, has suddenly picked up as the island nation also has reported heavy destruction of their crop due to rains.

Once the markets open for trade, a sharp depreciation in prices is expected to take place in view of the export ban.

Ironically the export ban comes when the government plans to make the ordinances that amended the Essential Commodities Act into law and stop knee-jerk reactions like the imposition of stock limits.