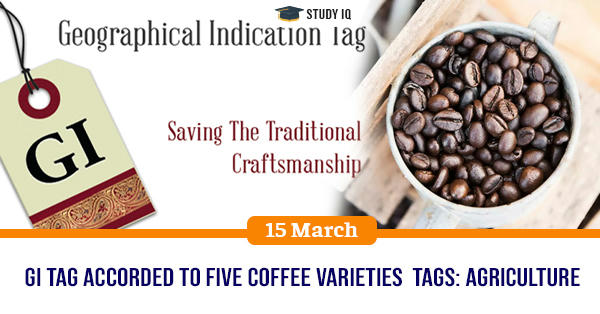 GI tag accorded to five coffee varieties
Date: 15 March 2019
Tags: Agriculture
Chennai based Geographical Indications Registry (GIR) has granted Geographical Indication (GI) tag to Wayanad Robusta Coffee, Coorg Arabica Coffee, Araku Valley Arabica Coffee, Chikmagalur Arabica Coffee and Bababudangiris Arabica Coffee.
Geographical Indication tag is sign used on products that have specific geographical origin and possess qualities or reputation by virtue of their geographical association. It conveys assurance of quality and distinctiveness which is essentially attributable to geographical origin of product. Owner of GI tag has exclusive rights over the product.
Coorg Arabica Coffee
It is grown specifically in Kodagu district in Karnataka. Its cultivation is integral part of lives of the people of Kodagu district and forms backbone of the local economy.

Kodagu district has unique biotic and abiotic conditions that provides uniqueness to Coffee grown in it.

The regions broader landscape terrain provides it unique aroma and flavour to the coffee when roasted.
Wayanad Robusta Coffee
Coffee based farming system is notable feature of Wayanad in Kerala. Coffee is grown both as mixed crop along with pepper and as only pure crop.

Wayanad produces almost around 90% of Kerala's Coffee produce and robusta coffee accounts for more than 95 percent of the total coffee cultivation.

Kerala's coffee economy is highly correlated with coffee economy existing in Wayanad.
Chikmagalur Arabica Coffee and Bababudangiris Arabica Coffee
Both are grown in Chikmagalur district of Karnataka, which is also known as birthplace of coffee in the country.

Total planted area of Arabica coffee in Chikmagalur region of Karnataka in the year 2016-17 was 17699 hectares.

Bababudangiris Arabica Coffee is grown specifically region is situated in central portion of Chikmagalur district.

It is grown in higher elevation area Arabica and is known for its unique flavour and aroma.

It is selectively hand

-

picked and processes by natural fermentation. It exhibits mild flavor, full body, acidity and striking aroma with note of chocolate.
Araku Valley Arabica Coffee
It is grown around Visakhapatnam district in Andhra Pradesh and Koraput district in Odisha.

It is light to medium in strength and has pleasant acidity with citrus note of grape fruit and mild jiggery - like sweetness.