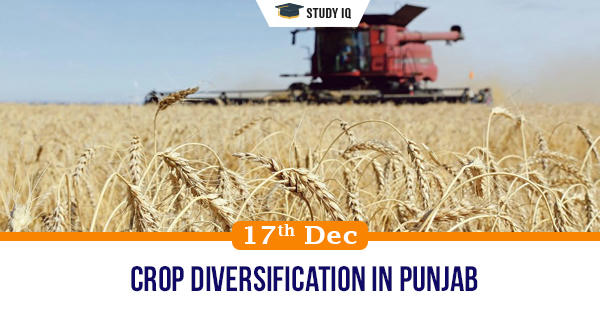 Crop diversification in Punjab
Date: 17 December 2020
Tags: Agriculture
Issue
Amidst the ongoing farmer protests, questions are being raised on the sustainability of paddy-wheat cultivation, especially in Punjab.
Background
Wheat and Paddy form the staple crop of Punjab. These crops require high input costs and are also responsible for depletion of water resources.
Details
Punjab's gross cropped area in 2018-19 was estimated at 78.30 lakh hectares (lh). Out of that, 35.20 lh was sown under wheat and another 31.03 lh under paddy, adding up to 84.6% of the total area planted to all crops.

The above gains have been at the expense of pulses (after 1960-61), maize, bajra, and oilseeds (after 1970-71), and cotton (after 1990-91).

Wheat replaced chana, masur, mustard and sunflower, while cotton, maize, groundnut, and sugarcane area got diverted to paddy.

The only crops that have registered some acreage expansions are vegetables (especially potato and pea) and fruits (kinnow), but they hardly amount to any diversification.
Threats due to monoculture
Growing the same crops year after year on the same land increases vulnerability to pest and disease attacks. The more the crop and genetic diversity, the more difficult it is for insects and pathogens to device way to pierce through plant resistance.

Wheat and paddy cannot also, unlike pulses and legumes, fix nitrogen from the atmosphere. Their continuous cultivation without any crop rotation, leads to depletion of soil nutrients and growing dependence on chemical fertilisers and pesticides.

If there is only one type of crop on a given land plot, the root systems of this species are not sufficient to maintain the soil structure around the plants, which can lead to erosion and loss of water uptake.

Monoculture farming has also a negative effect on such important participants of the natural reproductive cycle as bees and other pollinators.
Benefits of crop diversification
Major advantages of crop diversification include
Income increases of small farm holdings;

Less risk for price fluctuation, climatic variability;

Balancing food demand;

Increasing the production of quality fodder for livestock animals;

Beneficial for conserving natural resources;

Minimize intake of fertilizers;

Reducing application of pesticides.