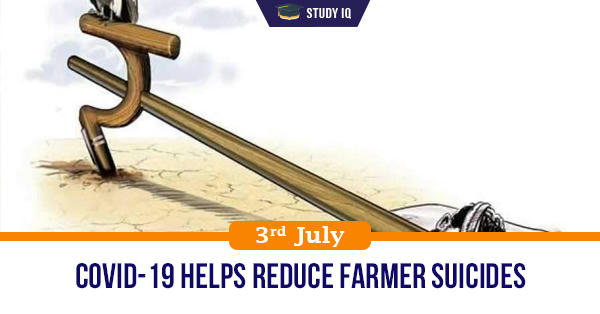 COVID-19 helps reduce farmer suicides
Date: 03 July 2020
Tags: Agriculture
Issue
A record by Punjab Revenue Department has shown that farmer suicides have reduced drastically due to the prevalence of lockdown.
Background
According to this figure, on average around 12-13 farmers took their lives per month over the past three months. This number though is very high, still, it is about 70 percent lesser than suicides per month that the state was recorded prior to the lockdown.
Details
If nearly four suicides in the last week of March are taken into account, the average suicides since the announcement of the lockdown till date are around 12 to 13 cases.

There is a perception that the government may help farmers to come out of the debt net during the Covid-19 crisis on the lines of most developed countries like Canada and the USA where big economic assistance was provided to the farmers by their respective governments.

This also means that there is a possibility of less pressure on farmers for repaying their debts currently due to the pandemic has led to a decline in suicide cases.

In rural Punjab, a huge expenditure that happens on marriages and even on last rites is not happening as of now because of restrictions. Such social obligations were taking a huge toll on a large number of farmers in rural Punjab.

Experts feel that the trend is temporary relief and the situation will worsen as the number of suicides might increase once normalcy returns. They fear that banks and other financial establishments will adopt hawkish measures to realise their outstanding dues from the farmers.

If government's policies pay attention towards paying full MSP to farmers and ensuring private players don't exploit them to make huge profits then suicides will be the thing of the past in Punjab.