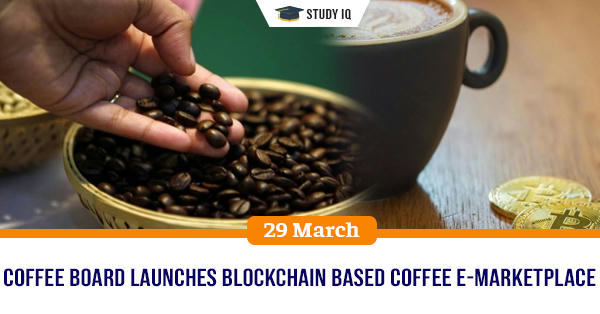 Coffee Board launches blockchain based coffee e-marketplace
Date: 29 March 2019
Tags: Agriculture
Coffee Board in collaboration with Eka Plus has launched blockchain based coffee e-marketplace on pilot project basis. It will help to integrate farmers with markets in transparent manner and better fair price realisation for their coffee produce. Eka Plus is one of global leaders in digital commodity management platforms. Such blockchain based coffee e-marketplace platforms already have been launched in France and Ethopia.
Blockchain based coffee e-marketplace
Stakeholder in coffee sector like coffee farmers, traders, exporters, coffee curers, rosters, importers and retailers need to register on this platform to make trade transactions. The credentials of coffee farmer such as place of coffee where it is grown, details of crops, certificates, elevation and other relevant information will be added on this platform. For each of lot the farmer sells on this blockchain platform, a unique block will be created for it. The credentials of each block will be stored on it throughout its journey.
Benefits
It will help to maintain traceability of Indian coffee from bean to cup. It will create brand image for Indian Coffee. It will reduce grower's dependency on intermediaries by providing direct access to buyers. This ensure grower is paid fair price for his coffee produced.
It will help to reduce number of layers between coffee growers and buyers. It will help in finding right coffee suppliers for exporters and within stipulated time to meet growing demand. It will also help farmers to double their income. It will also bring transparency among coffee farmers and buyers.