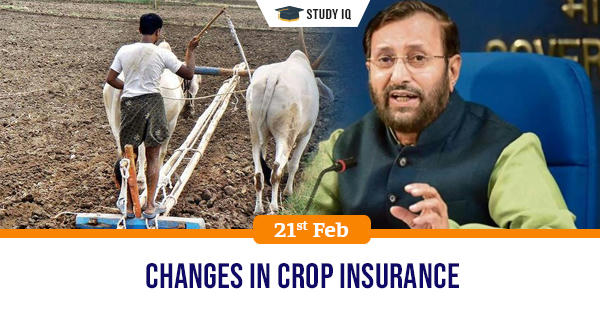 Changes in crop insurance
Date: 21 February 2020
Tags: Agriculture
Issue
The Centre decided to restrict its premium subsidy in its flagship crop insurance schemes to 30% for unirrigated areas and 25% for irrigated areas (from the existing unlimited).
Background
While the average premium rate under PMFBY and RWBCIS at the national level was 12.32% for 2018-19, for some crops in certain districts, the rate of premium has been higher than 30% in recent years.
Details
It also decided to make enrolment of farmers in the Pradhan Mantri Fasal Bima Yojana (PMFBY) and Restructured Weather Based Crop Insurance Scheme (RWBCIS) voluntary from the 2020 Kharif season.

At present, under PMFBY and RWBCIS, farmers pay a premium of 2% of the sum insured for all foodgrains and oilseeds crops of Kharif, 1.5% for all foodgrains and oilseeds crops of Rabi, and 5% for all horticultural crops.

The difference between actuarial premium rate and the rate of insurance premium payable by farmers, which is called the Rate of Normal Premium Subsidy, is shared equally between the Centre and the states.
Implications
One interpretation of this decision is that the burden of premium subsidy will go up for the states. For example, in the old regime, if a farmer's Kharif crop was insured for Rs 1,00,000 and the rate of actuarial premium was 40%, then the premium paid by the farmer was 2% (Rs 2,000), and the remaining premium was shared by the Centre and the state equally (19% or Rs 19,000).

In the new regime, for the same sum insured (Rs 1,00,000) and the same rate of premium (40%), the Centre will give subsidy for premium rates up to 30%. This means that from the Kharif 2020 season , the Centre will have to pay premium at the rate of 14% (out of 30%, the farmer's share is 2%, and the Centre's and state's 14% each) instead of the 19% it paid (out of 40%) in the last Kharif season.

The state has to bear the entire burden of the premium subsidy in cases where the rate of premium goes beyond the threshold of 30%.

By capping the subsidy for premium rates up to 30%, the Centre wants to disincentivise certain crops in such areas where growing these crops involve high risks in terms of crop insurance premiums.

That move will lead to a rise in the rates of premium, as the area covered under insurance and the number of enrolled farmers are expected to come down significantly.

As of now the schemes are compulsory for all loanee farmers and optional for other farmers. Non-loanee farmers under the crop insurance schemes are much fewer than loanee farmers. If the latter opt out of the schemes, the number of insured farmers will drastically come down.