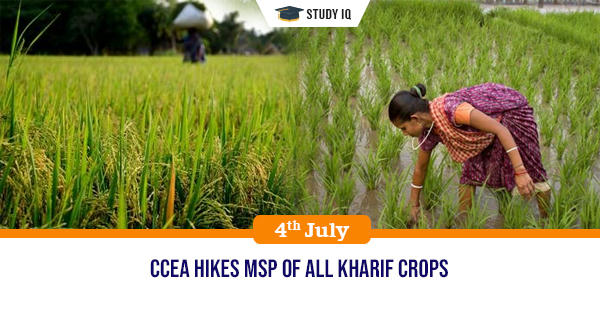 CCEA hikes MSP of all Kharif Crops
Date: 04 July 2019
Tags: Agriculture
Cabinet Committee on Economic Affairs (CCEA) chaired by Prime Minster has approved the increase in the Minimum Support Prices (MSP) for all kharif crops for 2019-20 Season. The decision will lead to increased investment and production through assured remunerative prices to the farmers. The increase in MSP for Kharif Crops for 2019-20 season is in line with principle of fixing MSPs at a level of atleast 1.5 times of all India weighted average Cost of production, which was announced in the last budget 2018-19.
Increased MSP of Crops: For paddy it has been increased by Rs.65 per quintal, Jowar by Rs. 120, Ragi by Rs.253, Tur by Rs. 125, Moong by Rs. 75, Urad pulses by Rs.100, Soyabean by Rs. 311, sunflower by Rs. 262 and sesamum by Rs. 236. The highest percentage return to farmers over their cost of production is for Bajra (85%) followed by urad (64%) and tur (60%).
Minimum Support Price (MSP)
It is form of agricultural market intervention undertaken by Union Government in order to insure agricultural producers from any sharp fall in farm prices. It is announced for certain crops by Government prior to sowing season. The prices are decided by CCEA on the basis of recommendations of the Commission for Agricultural Costs and Prices (CACP).
Significance of MSP mechanism: It is implemented across country as nearly 86% farmers are in small and marginal category (Agriculture Census 2015-16) and ensures equity. It also helps in stabilising prices in the market and thus services the consumers as well. It also incentivize cultivators to adopt modern technology and raise productivity and overall production in line with the emerging demand patterns in the country.