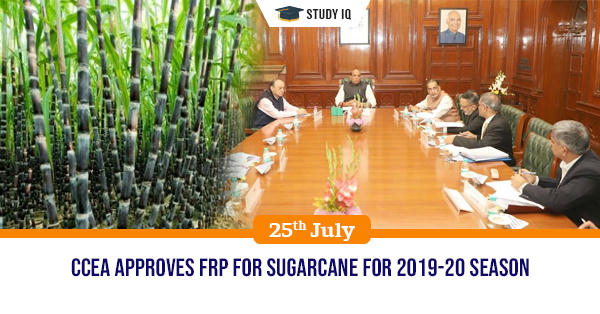 CCEA approves FRP for sugarcane for 2019-20 season
Date: 25 July 2019
Tags: Agriculture
Cabinet Committee on Economic Affairs (CCEA) chaired by Prime Minister Narendra Modi has approved determination of Fair and Remunerative Price (FRP) of sugarcane payable by sugar mills for 2019-20 sugar season. It is based on recommendation of Commission of Agricultural Costs & Prices (CACP) as per its report of August 2018 on price policy for sugarcane for the 2019-20 season. CACP has recommended the same price for 2019-20 sugar season as it was for the sugar season 2018-19. It will ensure a guaranteed price to cane growers.
About Fair and Remunerative Price (FRP)
It is the minimum price that sugar mills have to pay to sugarcane farmers. It assures margins to farmers, irrespective of whether sugar mills generate a profit or not. It is fixed by Central government on basis of recommendations of Commission for Agricultural Costs and Prices (CACP) and after consultation with State Governments and other stake-holders.
It is determined under Sugarcane (Control) Order, 1966. It is arrived by taking into account various factors such as cost of production, inter-crop price parity, overall demand-supply situation,domestic and international prices, terms of trade prices of primary by-products and its impact on general price level and resource use efficiency.