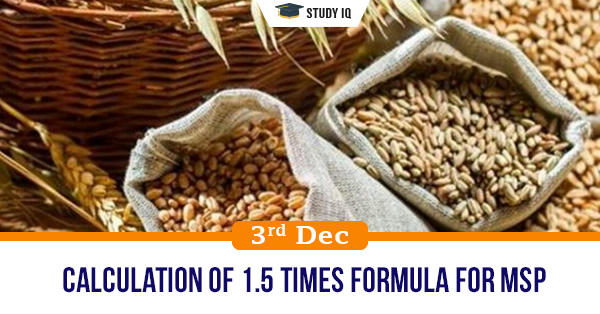 Calculation of 1.5 times formula for MSP
Date: 03 December 2020
Tags: Agriculture
Issue
One of the main issue raised by the farmers during their protest is regarding MSP, which they fear the government will do away with.
Background
The minimum support price (MSP) is an agricultural product price set by the Government of India to purchase directly from the farmer, well above their production costs.
Details
The minimum support prices are announced by the Government of India at the beginning of the sowing season for 23 crops on the basis of the recommendations of the Commission for Agricultural Costs and Prices (CACP).

While recommending MSP, CACP considers various factors viz. cost of production, overall demand-supply situations of various crops in domestic and world markets, domestic and international prices, inter-crop price parity, terms of trade between agriculture and non-agriculture sector, likely effect of price policy on rest of economy and a minimum of 50 percent as the margin over cost of production.

The 22 mandated crops, for which MSP is being announced by the government for the last three years, include 14 Kharif crops viz. Paddy, jowar, bajra, maize, ragi, arhar, moong, urad, groundnut, soyabean, sunflower, sesamum, nigerseed, cotton, and 6 Rabi crops viz. wheat, barley, gram, masur (lentil), rapeseed & mustard, safflower, and two commercial crops viz. jute and copra.

The CACP does not do any field based cost estimates. It makes projections based on state-wise, crop-wise production cost estimates.

A2 covers all paid out costs indirectly incurred by farmer in cash and kinds such as seeds, fertilizers, hired labour, leased land, fuel, equipments etc.

A2+FL include A2 plus an inputed value of unpaid family labour. C2 is more comprehensive cost that factors in rental and interest forgone on owned land and fixed capital assets.

CACP considers A2+FL and C2 costs while recommending MSP. However C2 costs are used by CACP primarily as benchmark reference cost.