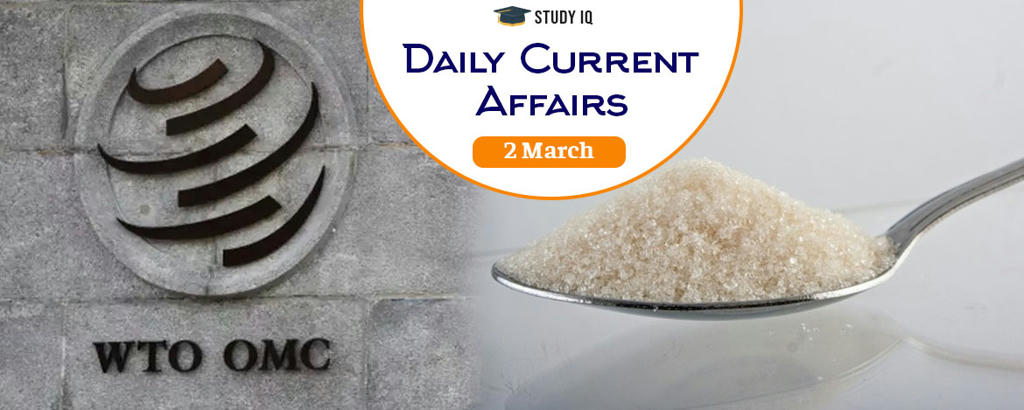 Brazil, Australia lodge complaint in WTO over India's sugar subsidies
Date: 02 March 2019
Tags: Industries, Agriculture
Brazil and Australia have lodged formal complaint against India in World Trade Organisation (WTO), alleging that India's continued sugar subsidies to farmers have led to "glut" and "depressed" global prices. Australia was first to lodged this counter-notification with WTO over to India's sugar subsidy practices in November 2018.
Reasons for complaint
According to Brazil and Australia, India's sugar subsidy regime was inconsistent with WTO rules and had helped create glut in global sugar market. It Is hurting sugarcane growers and sugar millers in Australia, Brazil or other countries. It is not consistent with WTO rules and does not provide level playing field.
Background
Sugarcane is grown as Kharif Crop in India. It is water intensive crop and needs hot and humid climate to grow. It can grow in any soil which can retain moisture, but deep rich loamy soil is ideal for its growth.

India is world's second largest sugar producer after Brazil. Currently, UP is India's foremost sugar producing state followed by Maharashtra and Karnataka.

In international markets, India is considered to be sugar giant due to huge production of sugarcane as well as sugar, largest number of cane farmers, more than 500 sugar mills, largest consumer of sugar and one of the largest sugar exports.
World Trade Organisation (WTO),
It is inter-governmental organization for governments to negotiate global trade agreements and progressively liberalizing trade.

It was established on 1 January 1995 and its official languages are English, French and Spanish. Its located in Geneva, Switzerland.

It operates system of trade rules that apply to all its members. It also has trade dispute resolution mechanism for its members to settle their trade disputes.