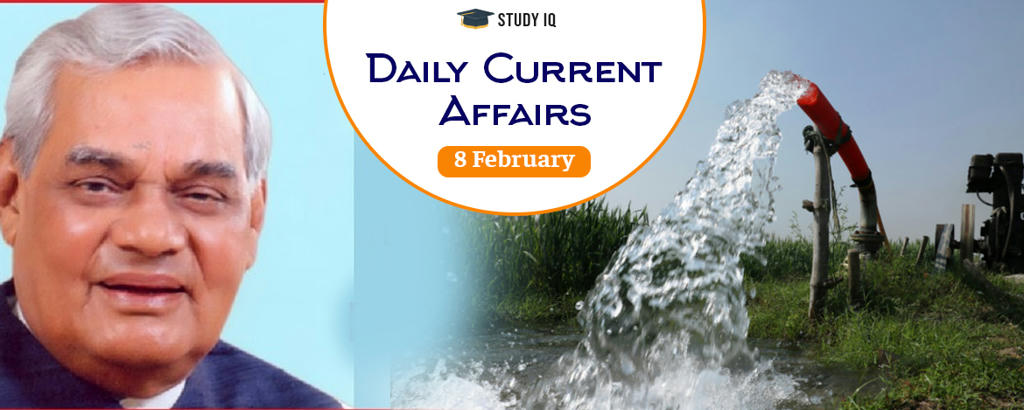 Atal Bhujal Yojana
Date: 08 February 2019
Tags: Agriculture
Atal Bhujal Yojana (ABHY) is Central Sector Scheme aimed at sustainable ground water management with community participation in select over-exploited and ground water stressed areas in seven States. It is implemented by Ministry of Water Resources with help of World Bank.
Objectives of ABHY
Recharge ground water and create sufficient water storage for agricultural purposes.

Revive surface water bodies so that ground water level can be increased, especially in the rural areas.

Give emphasis to recharging ground water sources and ensure efficient use of water by involving people at local level.
Features of ABHY
It has total outlay of Rs. 6,000 Crore. Funding pattern is 50:50 between Central Government and World Bank.

It is being implemented in the identified over-exploited (OE) and water stressed areas inseven States viz. Gujarat, Haryana, Karnataka, Madhya Pradesh, Maharashtra, Rajasthan and Uttar Pradesh.

It envisages active participation of communities in various activities such as formation of 'Water User Associations', monitoring and disseminating ground water data, water budgeting, preparation.

It also seeks implementation of Gram-panchayat-wise water security plans and Information Education Communication (IEC) activities related to sustainable ground water management.
Significance of ABHY
It targets those who are in need for constant ground water supply especially farmers who have been hard impacted by acute shortage of ground water for past several years.

It involves communities and converges with different water conservation schemes.

Its major component seeks to make society responsible and bringlong-term behavioural change to manage groundwater resource efficiently and judiciously.

It also seeks to change and improve overall outlook of all stakeholders towards water resource.
Background
The current status of groundwater is alarming, primarily due over-exploitation and non-uniform ground water development across the country. According to report Ground Water Assessment, 2011, published by Central Ground Water Board out of the total 6584 numbers of assessment units (Block/ Taluks/Mandals), 1034 units have been categorized as 'Over-exploited'. Moreover, 92 units are completely saline.
The number of over-exploited and critical administrative units is significantly higher in states/UTs of Delhi, Haryana, Punjab, Rajasthan, Uttar Pradesh, Himachal Pradesh, Karnataka and Tamil Nadu, Puducherry and Daman and Diu.
The declining ground water levels have resulted in failure of wells or deepening of extraction structures, leading to additional burden on farmers. Water being State subject, steps for conservation, augmentation and efficient management of water resources to ensure sustainability and availability are primarily undertaken by respective State Governments.