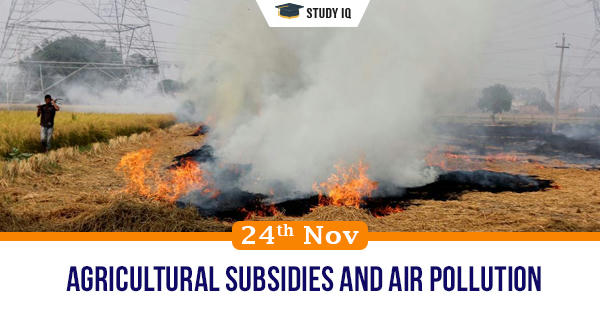 Agricultural subsidies and air pollution
Date: 24 November 2020
Tags: Agriculture
Issue
Delhi and the surrounding areas of the Gangetic plains suffer from pollution problem mainly during winter. While there are many reasons for pollution to occur, agriculture stands out.
Background
The over exploitation of government subsidies by farmers has contributed towards increasing pollution from agriculture.
Details
The Indo-Gangetic plain is also one of the world's largest and rapidly- growing ammonia hotspots.

Atmospheric ammonia comes from fertiliser use, animal husbandry, and other agricultural practices, combined with emissions from power plants, transportation, and other fossil-fuel burning to form fine particles.

Much of the policy attention has focused on how to change the disposal of paddy stubble, but our current system of subsidies is a big reason that there is stubble on these fields.

Free power and consequently free water pumped from the ground is a big part of what makes growing rice in these areas attractive.

Open-ended procurement of paddy, despite the growing stocks of grains with the Food Corporation of India, adds to the incentives. Subsidies account for almost 15 percent of the value of rice being produced in Punjab- Haryana belt.

Fertiliser, particularly urea in granular form, is highly subsidised. It is one of the cheapest forms of nitrogen-based fertiliser, easy to store and easy to transport, but it is also one of the first to release ammonia into the air and contribute towards pollution.
Different types of agricultural subsidies
Free electricity: Cheaper electricity for farmers.

Free irrigation: Irrigation facilities including bore well and pump sets.

Cheap fertilizers and seeds: Fertilizer rate is highly subsidised and seeds are procured at low prices.

Cheap credit facility: Cheap loans to farmers as credit. Sometimes there is also loan waiver.

Minimum Supporting Price: Providing higher than normal buying rate for produce by the government.

Tax free income: Farmers are free from paying income tax.