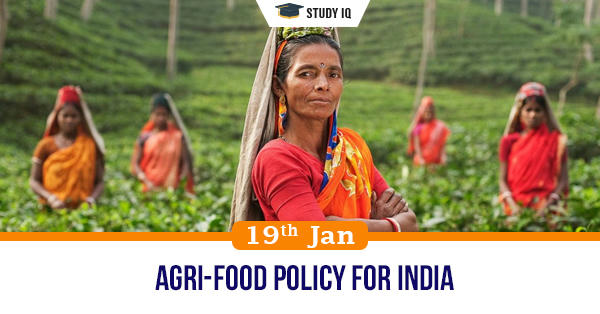 Agri-food policy for India
Date: 19 January 2021
Tags: Agriculture
Issue
Experts have stated that India needs to frame an optimal agri-food policy to address both short-run and long-term challenges.
Details
One, it should be able to produce enough food, feed and fibre for its large population. In this regard, the best step is to invest in R&D for agriculture, and its extension from laboratories to farms and irrigation facilities.

It is believed that developing countries should invest at least one per cent of their agri-GDP in agri-R&D and extension. India invests about half.

Two, it should do so in a manner that not only protects the environment but achieves higher production with global competitiveness.

This can be done by switching from the highly subsidised input price policy (power, water, fertilisers) and MSP/FRP policy for paddy, wheat and sugarcane, to more income support policies linked to saving water, soil and air quality.

Third, it should enable seamless movement of food from farm to fork, keeping marketing costs low, save on food losses in supply chains and provide safe and fresh food to consumers.
Benefits of the policy
The policy will reduce the burden of agricultural taxes on government. This money can be used for investing in agricultural research.

The policy will act as sustainable method to practice climate neutral agriculture that does not result in destruction of environment.

The policy will ensure that crop diversity and food security will be enhanced over a period of time in future.