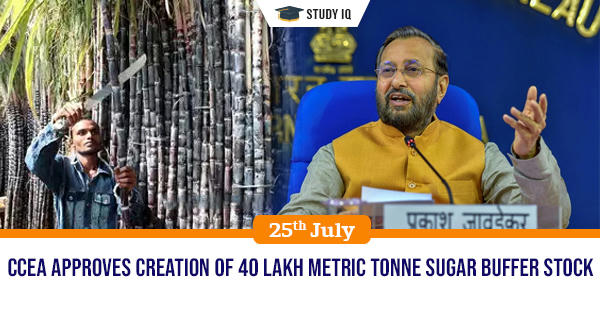 CCEA approves creation of 40 lakh metric tonne sugar buffer stock
Date: 25 July 2019
Tags: Agriculture
Cabinet Committee on Economic Affairs (CCEA) chaired by Prime Minister Narendra Modi has approved creation of buffer stock of 40 lakh metric tonnes (LMT) of sugar for one year. This decision is aimed to help stabilise sugar prices and assist sugar mill owners in clearing dues of cane farmers. It will cost the exchequer Rs 1,674 crore. Last year, Central Government had created 30 LMT buffer stock of sugar for a one-year period from July 1, 2018.
Benefits: The decisions will lead to improvement in the liquidity of sugar mills, reduction in sugar inventores, stabilization in sugar prices by alleviating of price sentiments in domestic sugar market and thereby facilitate timely clearance of cane price dues of farmers and benefit sugar mills in all sugarcane producing States by clearing sugarcane price arrears of sugar mills
Background
Series of bumper sugarcane harvests over past few years (season 2017-18, 2018-19), combined with higher rates of sugar recovery from sugar cane has resulted in glut in production ovrrshooting domestic demand. It has led to crash in retail prices. At the same time, Central Government has been regularly increasing Fair and Remunerative Price. As a result, payment arrears to farmers from sugar mills had shot up to Rs.25,000 crore earlier this year, and are still above the Rs.15,000 crore mark. In the wake of glut in sugar production and over-leveraged position in the industry and liquidity crunch, Government has taken series of interventions from time to time to improve liquidity of the sugar mills enabling them to clear cane price arrears of farmers and also to stabilize sugar prices in the domestic market. Buffer subsidy scheme is one such measure, where government creates buffer stock of sugar for one.