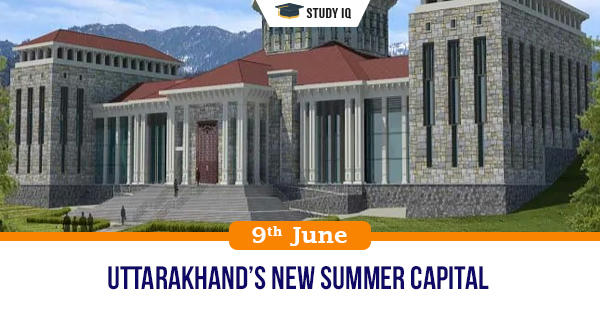 Uttarakhand's new summer capital
Date: 09 June 2020
Tags: Miscellaneous
Issue
Governor Baby Rani Maurya gave her assent for declaration of Bhararisen (Gairsain) in Chamoli district as the summer capital of Uttarakhand.
Background
It is expected that the declaration of a summer capital in the region will expedite development of the hilly areas. The development came three months after Chief Minister Trivendra Singh Rawat announced in the Budget Session of the Assembly held in Gairsain that the town will become summer capital of the state.
Details
Gairsain is located nearly 270-km from existing temporary capital of Dehradun. Even when Uttarakhand was carved out as a separate state from Uttar Pradesh, statehood activists had contended that Gairsain was best suited to be the capital of the mountainous state since it was between both Kumaon and Garhwal regions. But it was Dehradun in the plains that was named the temporary capital.

In its Vision Document, released before the 2017 Assembly elections, the BJP had promised to equip Gairsain with top-class infrastructure and consider declaring it as a summer capital with the consensus of all.

Former CM Vijay Bahuguna (then as Congress leader) had held first cabinet meeting in Gairsain in the local block office building in 2012. It was then announced that Gairsain will host at least one session in a year. Harish Rawat and the present BJP government too have held Assembly sessions in Gairsain.

With the announcement of Gairsain as the summer capital, there is a lack of clarity on the status of Dehradun. The recently published directory of the state Information department still mentions this colonial town as the temporary capital.