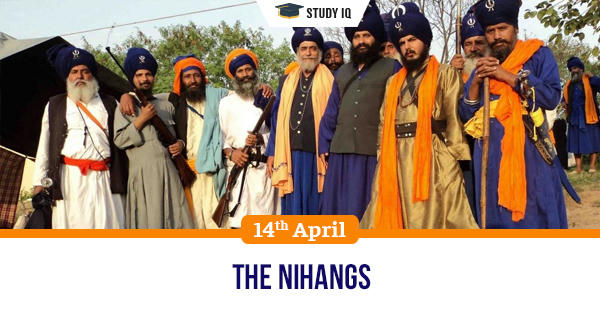 The Nihangs
Date: 14 April 2020
Tags: Miscellaneous
Issue
The Patiala incident, in which a group of Nihangs attacked a Punjab police party when stopped for a curfew pass, and the subsequent seizure of weapons and narcotics, has put the spotlight on the Nihangs.
Background
Etymologically the word nihang in Persian means an alligator, sword and pen but the characteristics of Nihangs seem to stem more from the Sanskrit word nihshank which means without fear, unblemished, pure, carefree and indifferent to worldly gains and comfort.
Details
Nihang is an order of Sikh warriors, characterised by blue robes, antiquated arms such as swords and spears, and decorated turbans surmounted by steel quoits.

This order can be traced back to the creation of the Khalsa by Guru Gobind Singh in 1699. There are some sources which trace their origin to Guru Gobind Singh's younger son, Fateh Singh (1699-1705), who once appeared in the Guru's presence dressed in a blue chola and blue turban with a dumala (piece of cloth forming a plume).

As per an account by the East India Company's Colonel James Skinner, Khalsa Sikhs were divided into two groups: Those who put on blue attire which Guru Gobind Singh used to wear at the time of battle and those who do not follow any restrictions on the colour of their dress though both of them follow the profession of soldiery.

Nihangs observe the Khalsa code of conduct in its strictest sense. They do not profess any allegiance to an earthly master. Instead of saffron they hoist a blue Nishan Sahib (flag) atop their shrines.

The Nihangs are fond of a popular drink called shardai or sharbati degh (sacrament drink) which contains grounded almonds, cardamom seeds, poppy seeds, black pepper, rose petals and melon seeds.

When a small measure of cannabis is added to it, it is termed sukhnidhan (treasure of comfort). A higher dose of cannabis in it was known as shaheedi deg, sacrament of martyrdom. It was taken (while) battling enemies.

Nihangs had a major role in defending the Sikh panth after the fall of the first Sikh rule (1710-15) when Mughal governors were killing Sikhs, and during the onslaught of Afghan invader Ahmed Shah Durrani (1748-65).

The Nihangs today constitute a small community. About a dozen bands, each headed by a jathedar (leader), are still carrying on with the traditional order. Prominent among these are Budha Dal, Taruna Dal and their factions.

In the absence of a centralised command, the Nihangs are loosely organised. For the whole year they remain stationed at their respective deras (centres) but set out on their annual pilgrimage of Anandpur Sahib, Damdama Sahib Talwandi Sabo and Amritsar, take part in religious events and exhibit their martial skills and horsemanship.