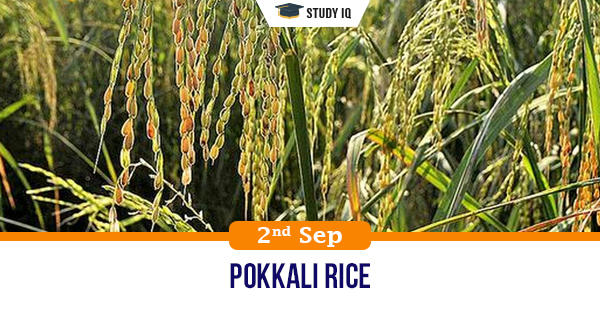 Pokkali rice
Date: 02 September 2020
Tags: Miscellaneous
Issue
Farmers from South Bengal are trying to introduce Kerala variety of rice to deal with severe salt water incursion in their fields after the cyclone Amphan.
Details
The pokkali variety of rice is known for its saltwater resistance and flourishes in the rice paddies of coastal Alappuzha, Ernakulam, and Thrissur districts.

The uniqueness of the rice has brought it the Geographical Indication (GI) tag and is the subject of continuing research.

Pokkali rice had been in the news because of its uniqueness and also because a group of people in Kerala have been trying to revive the cultivation of the rice variety in the State.

About 80% of the rice paddies in the Sundarbans faced the problem of saltwater incursion and if the pokkali experiment succeeded, it would be a good step to turn around the fortunes of the farmers.

The name 'pokkali' is derived from two words in Malayalam, 'pokkathil' and 'aali' meaning that which grows high.

An average crop's height ranges between 1.5 metres and 2 metres which is quite tall for a rice crop. The method of farming is entirely organic. It needs no fertilisers or pesticides.

If the experiment proves successful, more farmers in the region can be persuaded to sow the Pokkali seedlings in the next season.