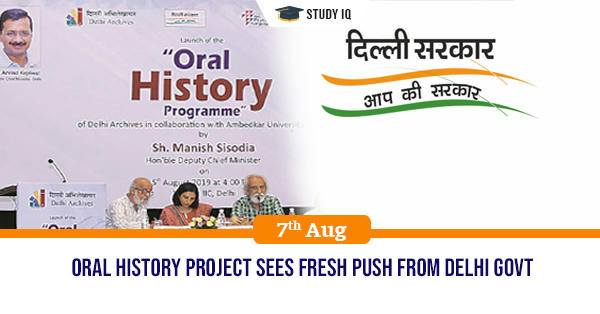 Oral History Project sees fresh push from Delhi govt
Date: 07 August 2019
Tags: Miscellaneous
Context: Delhi government launched the 'Oral History Programme' at the India International Centre on Monday (5/08/2019) . An MoU (Memorandum of Understanding) was signed between Delhi Archives department and the Ambedkar University (AUD).
Background:
It was in the '80s that the Delhi Archives department first began an oral history project by interviewing 56 personalities about the city, its history and changing nature.
From politician Gulzari Lal Nanda, who served as the acting Prime Minister twice in the '60s, to Sushila Nayar, a close aide of Mahatma Gandhi the interviews, stored in audio cassettes, detail their memories of Delhi.
However, this project was stopped due to lack of resources and manpower.
Now, the Delhi govt, is trying to revive the project and they are planning to add 100 more interviews.
Significance:
Unlike "written history," oral history empowers the voiceless.
"An illiterate person cannot write down what s/he knows but s/he can tell that story and that needs to be recorded."