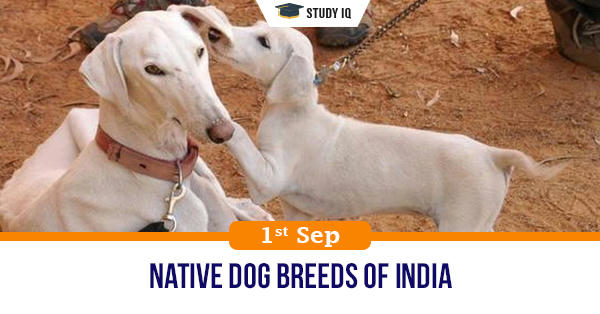 Native dog breeds of India
Date: 01 September 2020
Tags: Miscellaneous
Issue
PM Narendra Modi spoke about the beauty and resilience of Indian dogs and the induction of several indigenous breeds into the Armed Forces.
Background
Centuries ago, native dogs were not relegated to the back benches of the breed hierarchy as they have been in India today. They were constant companions of kings, queens and aristocrats as adept hunters and symbols of stature.
Details
In general, different dog breeds in world are classified based on their utility like protection/guarding, herding, flocking, mountain, companion, fighting, scent etc.

In India, some breeds of dogs viz., Caravan Hound, Combai, Chippiparai, Rajapalayam, Rampur Hound, Kanni, Mudhol Hound, Indian Mastiff (Bulli), Himalayan sheep dog, Bhutia dogs, etc., contribute to the domestic animal biodiversity of our country.

Indigenous dog breeds are mainly utilised for guarding and shepherding of livestock and agriculture farm, in comparison to exotic breeds, which are reared a fancy and as companion animal at home.

Very scanty information is available regarding the phenotypic characters of our indigenous dog breeds and their utility by the livestock keepers.

Most of the hunting dogs that are originally from the southern parts of India, while Himalayan sheep dogs and Bhutia dogs are from northern India and used by tribes to maintain herds.

Most of India's indigenous breeds are from the hound family with ancestors that came from Afghanistan, the Middle East.

They have a keen sense of smell, high energy, and drive. Their typical physical characteristics are deep cavity chests and long legs.

Indian dogs have thrived in the USA and Canada as long as they receive positive reinforcement training and exercise. They tend to be high energy dogs which excel when given proper training.

Indian dogs have fewer genetic defects, strong immunity. Their life span is also longer, around 16-17 years. They are very intelligent and can adjust to different types of climate.