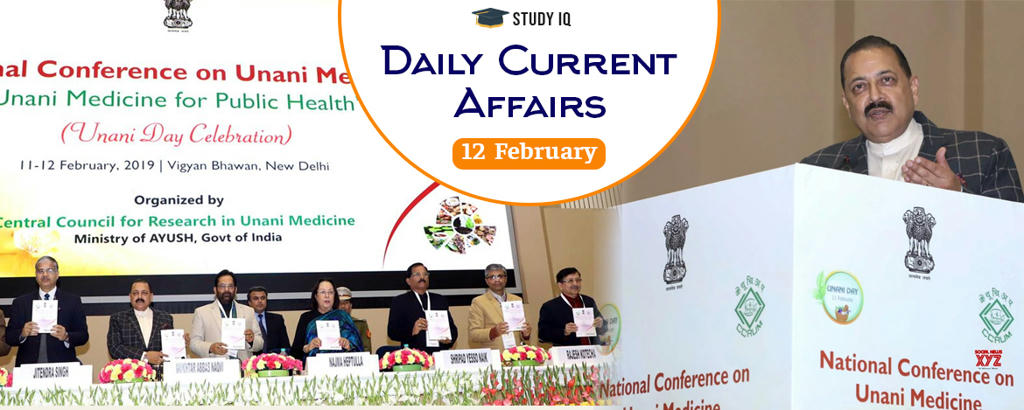 National Conference on Unani Medicine held in New Delhi
Date: 12 February 2019
Tags: Miscellaneous
The National Conference on Unani Medicine was recently held in New Delhi. It was organized by Central Council for Research in Unani Medicine (CCRUM), under Ministry of AYUSH as a part of 3rd Unani Day celebration (11 February). The theme of this conference was "Unani Medicine for Public Health" to highlight important role played by Unani medicine in public health especially in combating noncommunicable diseases (NCDs), lifestyle disorders and various chronic diseases by providing cost effective Unani treatment and quality products for patient healthcare.
Unani Day
It is observed every year on 11 February to mark birth anniversary of great Unani researcher Hakim Ajmal Khan. He was eminent Indian Unani physician, freedom fighter, educationist and founder of scientific research in Unani Medicine. This year it was 151st birth anniversary of Hakim Ajmal Khan.
Unani system of medicine
Unani is term used for Perso-Arabic traditional medicine as practiced in Mughals in India and in Muslim dominated cultures in South Asia and modern day Central Asia.

The term Yunani

in Greek means Perso-Arabic system of medicine. It had originated in Greece. Hippocrates is known as father of this system of traditional medicine.

It was introduced to India in 13th century with establishment of Delhi Sultanate. Later on it took its own course of development during Mughal empire rule with Indian context after it was influenced by Indian medical teachings of Sushruta and Charaka.

Hellenistic origin of Unani medicine is still visible in its being based on classical four humours: phlegm (balgham), blood (dam), yellow bile (

s

afr

a

) and black bile (sauda

). But it also has been influenced by Indian and Chinese traditional systems.

Like Ayurveda, it is also based on theory of presence of elements in human body. According to followers of Unani medicine, these elements are present in bodily fluids and their balance leads to health and their imbalance leads to illness.