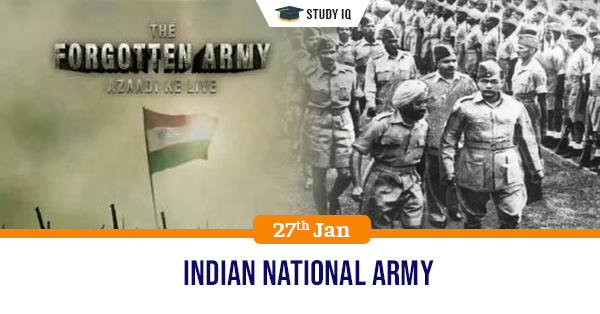 Indian National Army
Date: 27 January 2020
Tags: Miscellaneous
Issue
The Web series 'The Forgotten Army: Azadi Ke Liye' started streaming on Amazon Prime, which is based on the stories of the men and women who fought in Netaji Subhas Chandra Bose's Indian National Army (INA).
Background
The INA was formed in Singapore in 1942 under the leadership of Subhas Chandra Bose. At the behest of their Japanese captors, over 20,000 Indian prisoners of war came together to form this army with the aim of freeing India from British colonial rule.
Details
After the fall of Singapore, on February 17, 1942, over 45,000 Indian prisoners of war were handed over by the British to the Japanese forces.

The Japanese pledged their support for India's independence, following which, Mohan Singh who was a captain in the 1/14th Punjab Regiment in the British Army, called upon Indians to form an army to free India. Hence the INA was formed.
The INA trials
The Indian National Army trials (INA trials), which are also called the Red Fort trials, were the British Indian trial by courts-martial of a number of officers of the Indian National Army (INA) between November 1945 and May 1946, for charges variously for treason, torture, murder and abetment to murder during World War II.

The first of these, and the most celebrated one, was the joint court-martial of Colonel Prem Sahgal, Colonel Gurbaksh Singh Dhillon, and Major General Shah Nawaz Khan.

The Indian National Congress made the release of the three defendants an important political issue during the agitation for independence of 1945-6.

The INA Defence Committee was a committee established by the Indian National Congress in 1945 to defend those officers of the Indian National Army who were to be charged during the INA trials.

The committee declared the formation of the Congress' defence team for the INA and included famous lawyers of the time, including Bhulabhai Desai, Asaf Ali, Jawaharlal Nehru, Tej Bahadur Sapru, Kailash Nath Katju.