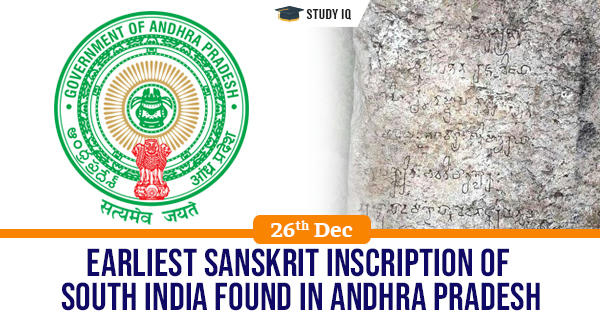 Earliest Sanskrit inscription of south India found in Andhra Pradesh
Date: 26 December 2019
Tags: Miscellaneous
Issue
The Epigraphy Branch of the Archaeological Survey of India has discovered the earliest epigraphic evidence so far for the Saptamatrika cult. It is also the earliest Sanskrit inscription to have been discovered in South India as on date.
Background
The inscription was discovered in Chebrolu village in Guntur district of Andhra Pradesh. There are references of Saptamatrika worship in the early Kadamba copper plates and the early Chalukyas and Eastern Chalukya copper plates. But the new discovery predates them by almost 200 years.
Details
Saptamatrikas are a group of seven female deities worshipped in Hinduism as personifying the energy of their respective consorts.

The inscription is in Sanskrit and in Brahmi characters and was issued by Satavahana king Vijaya in 207 A.D.

The verification of all the available records proved that the Chebrolu inscription of Satavahana king Vijaya issued in his 5th regnal year, 207 A.D. is also the earliest datable Sanskrit inscription from South India so far.

So far the Nagarjunakonda inscription of Ikshavaku king Ehavala Chantamula issued in his 11th regnal year corresponding to the 4th century A.D. was considered the earliest Sanskrit inscription in South India.
Satavahana dynasty
The Satavahanas, also referred to as the Andhras in the Puranas, were an ancient Indian dynasty based in the Deccan region.

The Satavahanas were early issuers of Indian state coinage struck with images of their rulers.

They formed a cultural bridge and played a vital role in trade and the transfer of ideas and culture to and from the Indo-Gangetic Plain to the southern tip of India.

They supported Brahmanism as well as Buddhism, and patronised Prakrit literature.
Administration
Rajan, the hereditary rulers

Rajas, petty princes who struck coins in their own names

Maharathis, hereditary lords who could grant villages in their own names and maintained matrimonial relations with the ruling family

Mahabhojas

Mahasenapati (civil administrator under Pulumavi II; governor of a janapada under Pulumavi IV)

Mahatalavara ("great watchman")

The royal princes (kumaras) were appointed as viceroys of the provinces.
The ahara appears to have been the largest geographical subdivision of the Satavahana polity.

The inscriptions of Gautamiputra Satakarni suggest the existence of a bureaucratic structure. The Satavahana-era inscriptions mention three types of settlements namely nagara (city), nigama (market town) and gama (village).
Cultural contributions
The Satavahanas patronised the Prakrit language instead of Sanskrit. The Satavahana king H?la is famous for compiling the collection of Maharashtri poems known as the Gaha Sattasai.

The sculptures of the Amaravati Stupa represent the architectural development of the Satavahana periods. The most famous of these monuments are the stupas, the most famous among them being the Amravati Stupa and the Nagarjunakonda Stupa.

Caves IX and X, containing Ajanta paintings, were patronised by Satavahana, and the painting throughout the caves appear to have started with them.