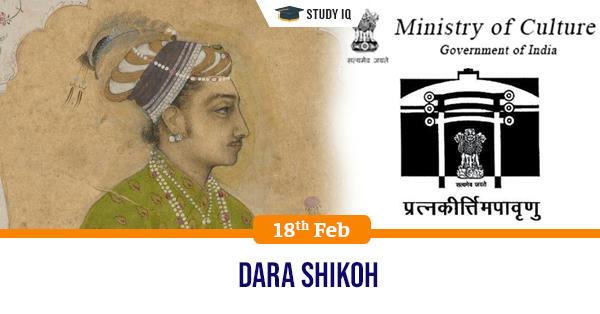 Dara Shikoh
Date: 18 February 2020
Tags: Miscellaneous
Issue
The Ministry of Culture recently set up a seven-member panel of the Archaeological Survey of India (ASI) to locate the grave of the Mughal prince Dara Shikoh (1615-59).
Background
The panel will use architectural evidence from that time, and also written history and any other information that can be used as evidence.
Details
The eldest son of Shah Jahan, Dara Shikoh was killed after losing the war of succession against his brother Aurangzeb.

Dara Shikoh is described as a "liberal Muslim" who tried to find commonalities between Hindu and Islamic traditions. He translated into Persian the Bhagavad Gita as well as 52 Upanishads.

Dara Shikoh realised the greatness of the Upanishads and translated them, which were earlier known only to a few upper caste Hindus.

Some historians argue that if Dara Shikoh had ascended the Mughal throne instead of Aurangzeb, it could have saved thousands of lives lost in religious clashes.

According to the Shahjahannama, after Aurangzeb defeated Dara Shikoh, he brought the latter to Delhi in chains. His head was cut off and sent to Agra Fort, while his torso was buried in the Humayun's Tomb complex.

Italian traveller Niccolao Manucci gave a graphic description of the day in Travels of Manucci, as he was there as a witness to the whole thing. That is the basis of the thesis.

The Shahjahannama compiled by Muhammad Saleh Kambo has dedicated at least two pages to the last days of Dara Shikoh, on how he was brutally murdered and buried somewhere in the complex.

The ASI's biggest problem is that most graves in the complex have no names. This will complicate the process further as the exhumation of graves is not permitted.